10 Best Shopify Marketing Apps For 2023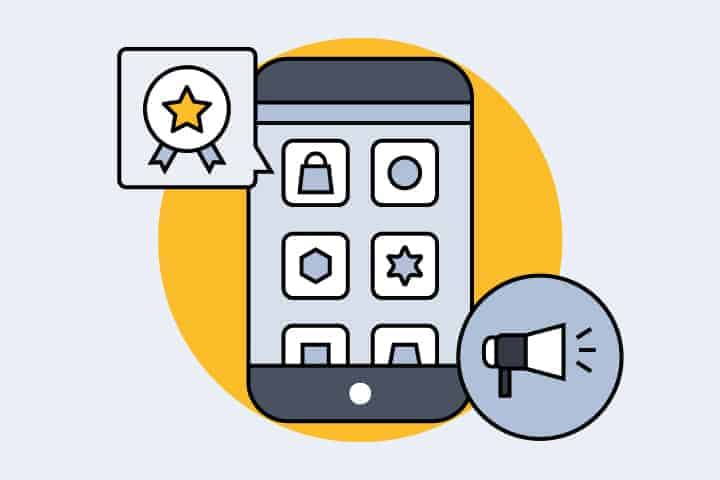 Shopify has hundreds of apps that allow you to manage your online store and make sales flawlessly. As you might already know, you cannot succeed in the online world without having the right tools. If you want to boost revenue, increase traffic, and build a gigantic email list, this list of best Shopify marketing apps will help.
Shopify makes it super easy to set up a store and run smoothly with some groups of apps. Since they run in their hundreds, making a choice could be a hard task. In that case, here is a list of Shopify marketing apps you need as a store owner.
Over 85% of online stores rely on referral marketing to market their products and increase sales. But it can also be tricky, especially if you haven't run such a program before. Osiaffiliate allows you to run affiliate marketing on your site, efficiently without worries. It is easy to integrate on your platform and fast too. The software comes with an incredible reporting system that gives you a detailed overview of your campaign performance. You can manage commission, traffic sources, and more with this fantastic software. In the fitness industry,  this referral software for gym owners find this app useful to get more members.
The reason OSI affiliate is different from numerous affiliate marketing platforms is its powerful customer support. If you run into any issues, OSI affiliate agents are ever ready to help guide you on the right path. They are most helpful, especially to newbies trying to get the hang of how it works.
If you're looking for the best Shopify app that would help you build a big email list, then OptinMonster is up for the challenge. Email marketing is an important aspect that you should not joke with as a store owner. It allows you to market your products and services directly to your target audience. Upon all the apps on Shopify, OptinMonster's ability to lift sales makes it one of the top apps you need in your store.
According to numerous users who used this incredible app, conversion and sales increased by over 50%. That is an astonishing feat!
It is pretty easy to integrate this app in your store, with its 1-click integration capacity. The processes are straightforward, and allows you to create a popup, floating alert bar, and so much more. This app is what you need if you want to build an email list.
There is a remarkable power in upselling, and all you need is the right app to make that happen. Take McDonald's, for example. Most people don't go there for fries, but rather for burgers. But McDonald's serves millions of it every day all because of a simple and powerful phrase, "Would you like some fries with that?" You can use this technique in your store and skyrocket sales and customers. In that case, Bold Upsell is here for the rescue. With this app, you can upsell to customers just when they are about to checkout. With a simple click, you can get your customers to make one more order that would be useful to them. 
With this app, you can display up to three upsells in one funnel. You can customize in a way that is very hard to resist.
If you're looking for another alternative to reaching your audience, SMS messages might be the way. With SMSBump, you can contact your customers through text messages. It is powerful since it can become a medium by reminding them of their abandoned cart, offering upsells, and even more.
You will be able to create SMS or MMS to your customers, in their ideal time zone for the best result. Apart from your online store, you can also integrate it with your Shopify POS and collect subscribers in a brick store. Furthermore, the app complies with TCPA and DGPR policies.
With this Shopify app, you can create a purchase button irrespective of the product. This buy button allows you to integrate a cart on your website, or you can enable customers to check it out without issues directly. This app will help you to create a checkout page and can link to email, direct messages of social media posts. You get this app no matter your Shopify plan.
This app helps you optimize your post and pages for SEO. That way, you're able to get tons of traffic from search engines like Google. Better ranking means more sales. The majority of your buyers often go through Google. If your SEO is pretty strong, you will be getting tons of traffic that catapult your business to a new height. With Plugin SEO, you can edit the meta titles and descriptions.
Sometimes, it can be exhausting answering the same question over customer support. But with HelpCenter, it allows you to create a FAQ page that is very responsive on all devices and browsers. With the search bar, customers can easily send their questions. The price is meager, thereby making it affordable.
Another vital element that must not be missing in your store is a live chat widget. Customers sometimes want a quick reply to a question, either about a product or a glitch. With this powerful live chat, you become more connected to your customers. Even when you're not online, the chatbot automatically replies to popular inquiries, which is super cool.
With this Shopify app, you can create a wishlist for your customers. That way, they can keep track of items they want to order later. This app allows your customers to bookmark their favorite products until they are ready to make a purchase.
Smile.io is another incredible referral program app that allows you to create a referral program. That way, your customers can earn some commission by recommending your products and services to their friends. You can build loyalty and VIP programs, allowing you to generate more revenue from your existing customers.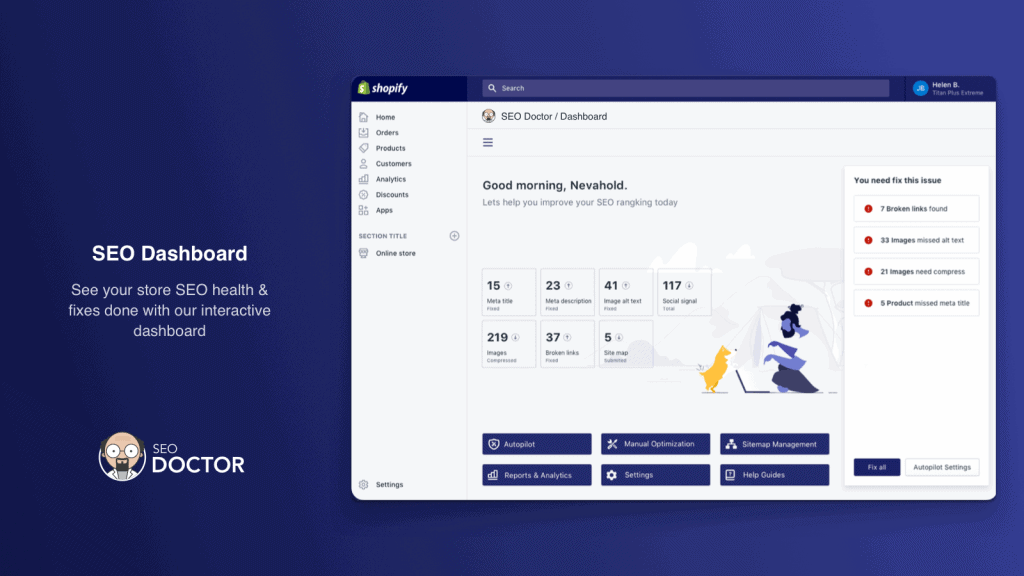 SEO Doctor is a shopify SEO app to quickly identify and fix issues on your shop which can boost your rankings on Google and other search engines. It automatically identifies issues such as missing or poor meta title, meta description, image alt text, image renaming etc. It also compresses images to load your pages faster which helps in boosting your search rankings. 
Apart from SEO issues, SEO Doctor has an "auto-pilot" feature which can automatically fix all the identified issues for you and keep fixing it whenever a new issue is identified. 
You can use SEO Doctor to connect to your Google Search Console account and submit your sitemaps in just a click. It automatically monitors your sitemaps for stats and issues. Lastly, SEO Doctor monitors broken links (or 404 page errors) and automatically redirects users to your home page, thus reducing your SEO penalty on your store.