How to Create Wix Affiliate Links (Updated Dec 2023)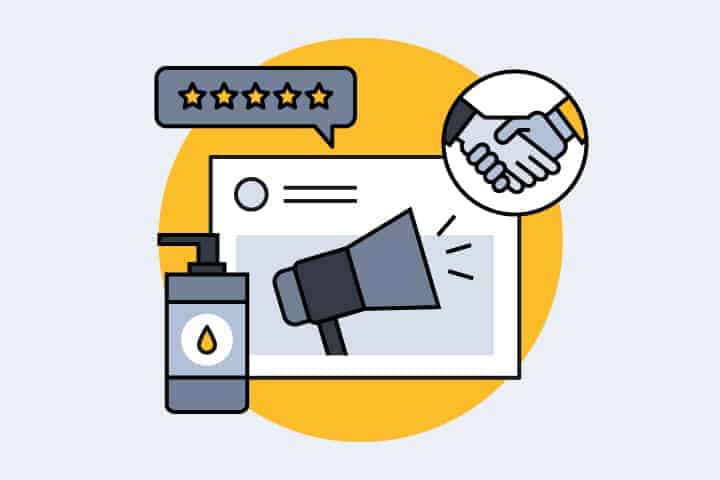 Did you know that you can create affiliate links on Wix? It's a great way to promote your favorite products and services, and earn a commission for every sale you make. In this article, we'll show you how to create affiliate links on Wix. We'll also provide some tips for promoting your links. Let's get started!
There are a variety of strategies that you can use to create effective affiliate links on Wix websites. One of the most popular and simple techniques is to use a link shortening tool, such as Bitly or TinyURL, to generate shortened versions of your destination links. This gives your affiliates more room in their messages without cutting off important URLs, and it also helps to ensure that the links are less spammy-looking and more appealing to consumers. Additionally, you may wish to experiment with UTM parameters in order to track which traffic sources convert best. Finally, be sure to clearly label all affiliate links on your site with clear text or graphics so that users know exactly what they are clicking on. With these tips, you should be able to create successful affiliate links for your Wix website.
Here are some tools that you can use along with your Wix website.

As an OSI Affiliate customer, you can rest assured that your business is in good hands. This software platform has all the tools needed to help your customers drive sales and increase brand awareness through their social networks. 
Pros‍
Easy integration
Available in a variety of platforms
Easy setup of referral programs
Dedicated dashboard
Cons‍
Key Features‍
Affiliate marketing system
Referral marketing system
Integrates with most ecommerce apps
Pricing‍
They have a trial and plans that start at $47 per month.
Overall Impression
With access to a powerful suite of tools such as social sharing widgets, CRM analytics, and referral tracking software, your customers will be able to easily promote your products and services across all their favorite social platforms. Whether they're sharing photos on Instagram or promoting your products on Facebook, they'll always have the right tools at their fingertips to make it easy for them to support your brand in everything they do online.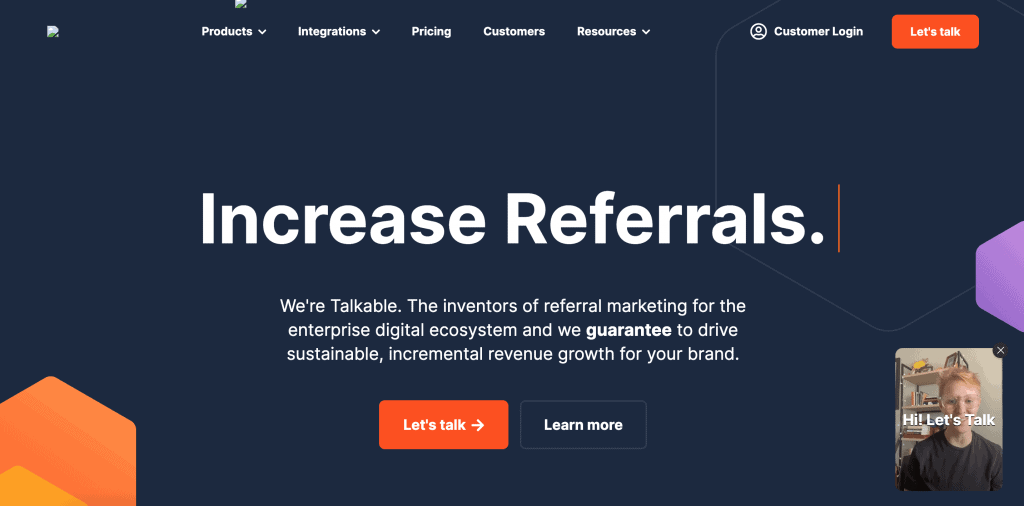 As one of the premier referral marketing platforms in the digital world, Talkable is dedicated to driving sustainable, incremental revenue growth for brands. Their goal is to help businesses connect with new audiences and engage current customers in a meaningful way, through social referrals and other cutting-edge marketing tools. 
Pros‍
Integrates with various ecommerce platforms
Integrates with email platforms as well
Dedicated customer service
Managed launches
Cons‍
Limited access to their services
Key Features‍
Mobile friendly campaigns
Customer portal
HTML Editor
Pricing‍
Pricing is only disclosed when you apply.
Overall Impression
Whether you're looking to grow your existing customer base or attract a new set of users, Talkable has everything you need to succeed.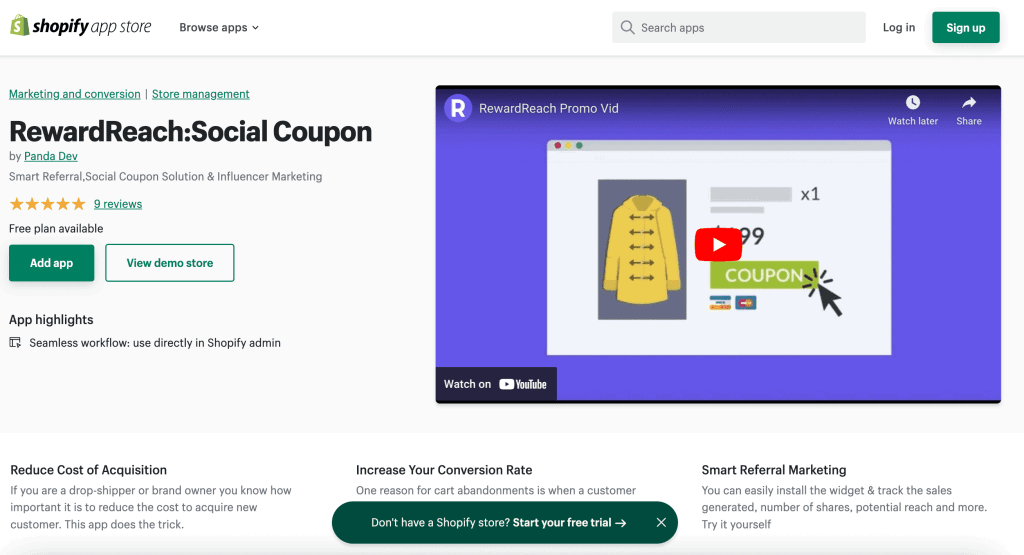 Looking for an innovative way to reward your brand's loyal ambassadors? Look no further than Rewardreach, a groundbreaking new app that allows you to offer free shipping instead of a percentage-based discount. Unlike traditional loyalty programs, Rewardreach doesn't rely on an elaborate point system or complicated tiers. Instead, it takes advantage of the unique geolocation capabilities of modern smartphones, allowing customers to earn coupons for every interaction they have with your brand, from visiting your website to making a purchase. 
Pros‍
Integrates seamlessly with Shopify
Easily share stores on social media
Rewards sharers in real time
Cons‍
Requires Shopify as a platform
Key Features‍
Customizable text and colors
Have widgets and pop-ups in your store
Gives you access to analytics
Easy to test on your store
Pricing‍
Free plan is available.
Overall Impression
Because Rewardreach is integrated directly into their Instagram feeds, it encourages ambassadors to follow you and use Instagram as their primary source of information about your products or promotions. And with free shipping as the ultimate incentive, there's no doubt that Rewardreach will help you attract and retain brand advocates like never before.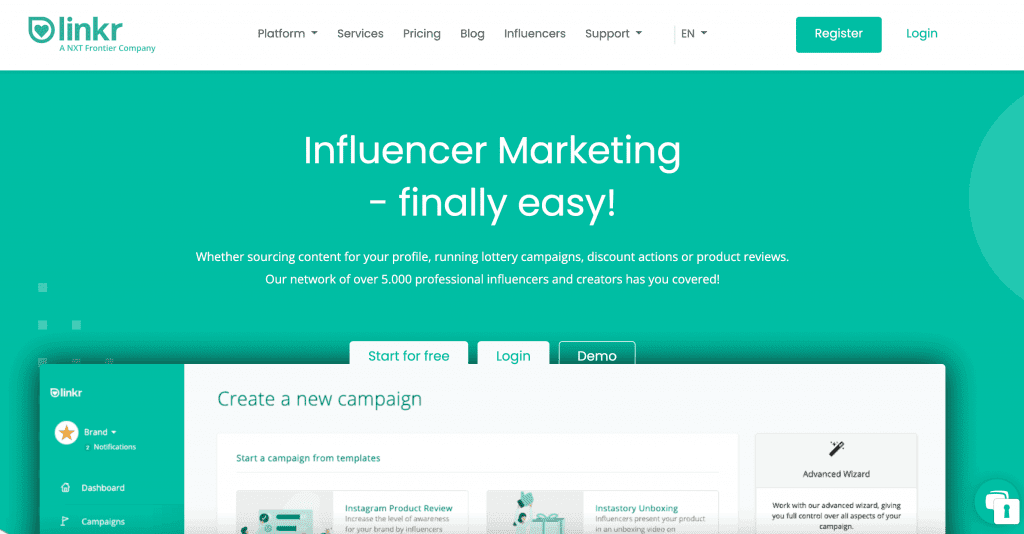 Developed by a team of industry experts, Linkr is the ultimate tool for growing your social media presence. 
Pros‍
Easily launch influencer marketing campaigns
Track the performance of your campaigns
Find influencers for your products and services
Cons‍
Extra payment for extra users
Key Features‍
Easily find relevant influencers
Nurture your online relationships
Create marketing campaigns
Create social media campaigns<
‍Pricing‍
Plans starts at 49 Euros.
Overall Impression
Whether you are looking to source content for your own profile or run targeted campaigns with influencers and creators, this app makes it easier than ever to connect with top performers in your niche. And with access to over 5,000 professional influencers and content creators, the opportunities are virtually limitless.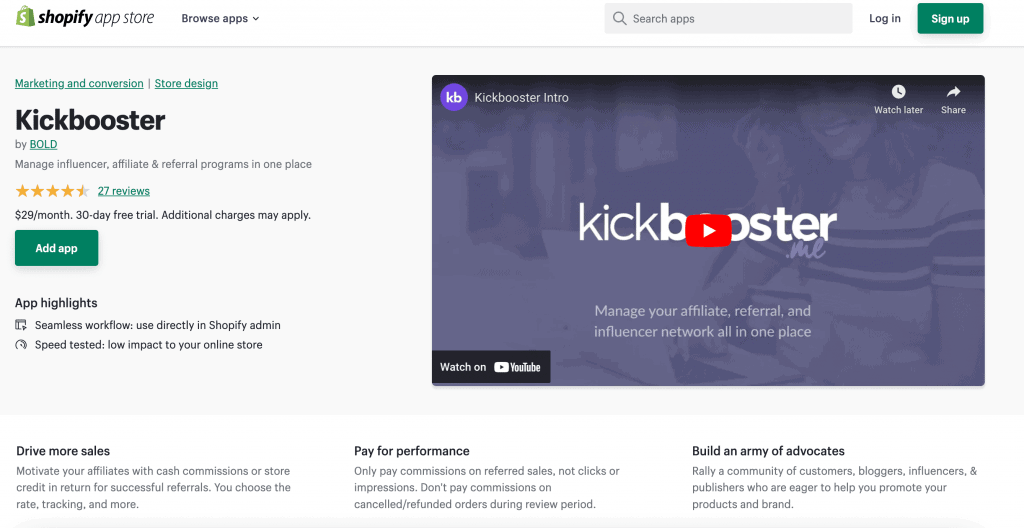 With so many different marketing tools and platforms available these days, it can be difficult to find one that really stands out from the crowd. Kickbooster is one such app, offering an easy and efficient way to run your affiliate marketing program. Whether you're just starting out or have been doing affiliate marketing for years, Kickbooster makes it simple to get your program up and running in no time. The streamlined platform handles all the tracking links, validation of referrals, and commission management, so you can focus on growing your business without worrying about the technical side of things. 
Pros‍
Easy app integration
Tested results
Easily leverage their network
Cons‍
Key Features‍
Automatic referral tracking and validation, commission payouts, and affiliate support.
Pay for performance
Automatic invites after purchase
Protection from self-referrals
Pricing‍
They offer a 30-day free trial then $49 per month.
Overall Impression
With powerful reporting features that allow you to access detailed analytics on your activities and performance, Kickbooster is truly a one-stop solution for everything related to affiliate marketing. So if you're looking for an efficient and effective way to take your affiliate marketing efforts to the next level, look no further than Kickbooster!

Thanks to the Tap Affiliate app, businesses now have more freedom than ever when it comes to partnering with others. Not only does this innovative app make it easy to onboard new affiliates and give them everything they need to promote your business, but it also rewards them for doing so. 
Pros‍
Various integration options
Viral marketing system and templates
Automation at your fingertips
Cons‍
They may take time to reply to inquiries
Key Features‍
Easy integrations
Can add to custom sites with simple lines of code
Performance bonuses for affiliates
Pricing‍
Pricing starts at $59 per month.
Overall Impression
Whether you're looking to broaden your marketing reach or build a strong team of brand ambassadors, the Tap Affiliate app provides an efficient and cost-effective solution that allows you to partner with anyone, on any platform.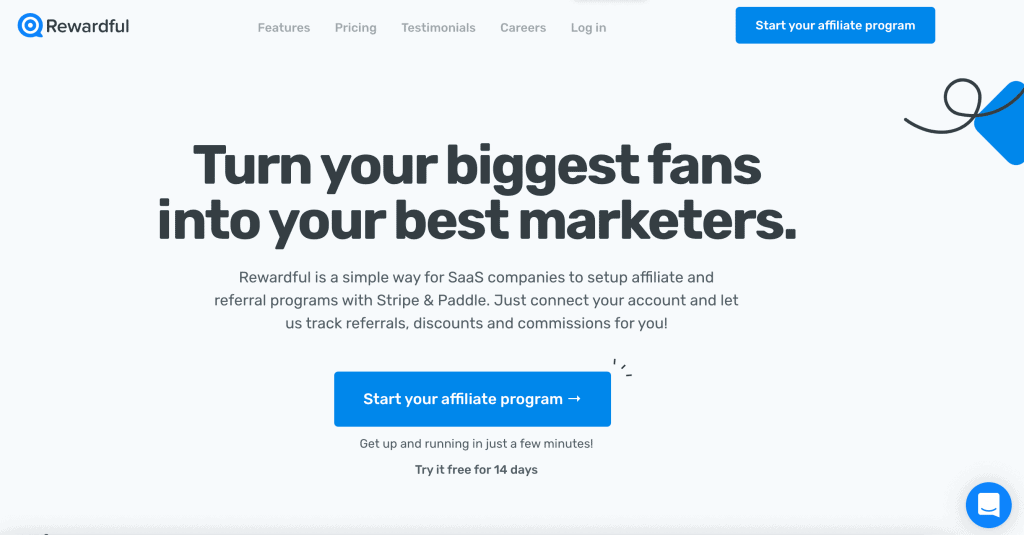 At Rewardful, we believe that everyone has the potential to be a marketer. Whether you are an avid fan of a SaaS company or simply looking to earn some extra cash, our app makes it easy to turn your greatest assets – your friends and followers – into powerful marketing machines. Simply connect your Stripe or Paddle account, and we'll take care of tracking referrals, discounts, and commissions for you. 
Pros‍
Easily setup your affiliate dashboard
Launch referral campaigns with ease
Easy integrations with most apps
Live customer service chat if needed
Cons‍
Limited integrations so be sure to check if cover the app you are using
‍Key Features‍
One-click integration
Stripe integration
Live customer support
Option to have subscriptions
Pricing‍
Pricing starts at $29 per month.
Overall Impression
Whether you're launching a new product or trying to get more customers, Rewardful has everything you need to transform your supporters into powerful marketing engines.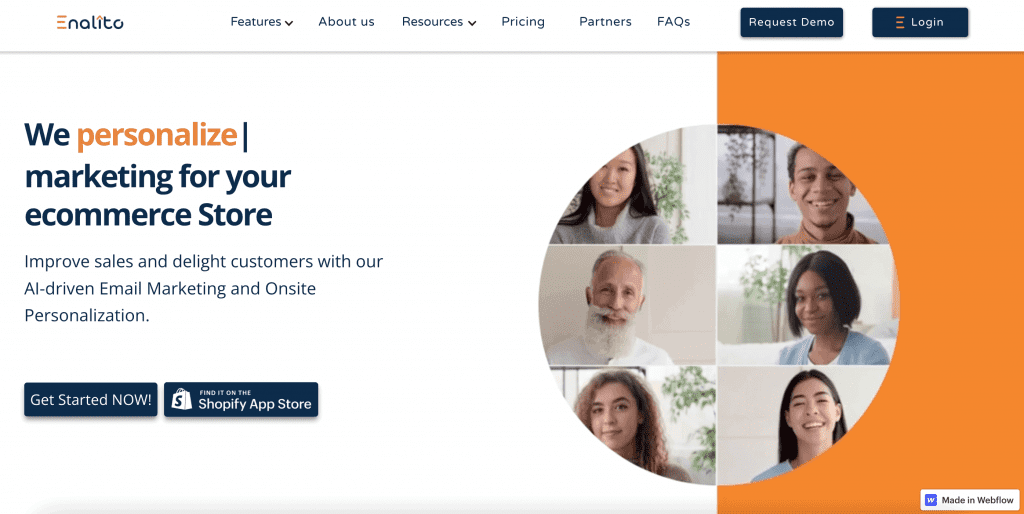 Enalito is an innovative new app that uses cutting-edge artificial intelligence technologies to help businesses improve their sales and delight their customers. By combining powerful email marketing tools with intelligent onsite personalization techniques, Enalito helps to better engage existing customers and attract new ones. 
Pros‍
Adjusts the experience based on the customer
Creates customized experiences and messages
Sends the right message to the right people for better conversions
Cons‍
Key Features‍
Create engaging emails
Bring your emails to life
Reach your target audience with ease
Pricing‍
Pricing starts at $100 per month.
Overall Impression
Whether you're looking to grow your online store, increase the reach of your blog, or boost sales for your brick-and-mortar business, Enalito can help you achieve your goals. With its easy-to-use interface and flexible customization options, the app makes it simple to craft personalized marketing campaigns that are tailored to each customer's unique preferences and purchase history. And by tapping into vast troves of user data, the app is able to deliver highly targeted ad content right at the moment when users are most receptive.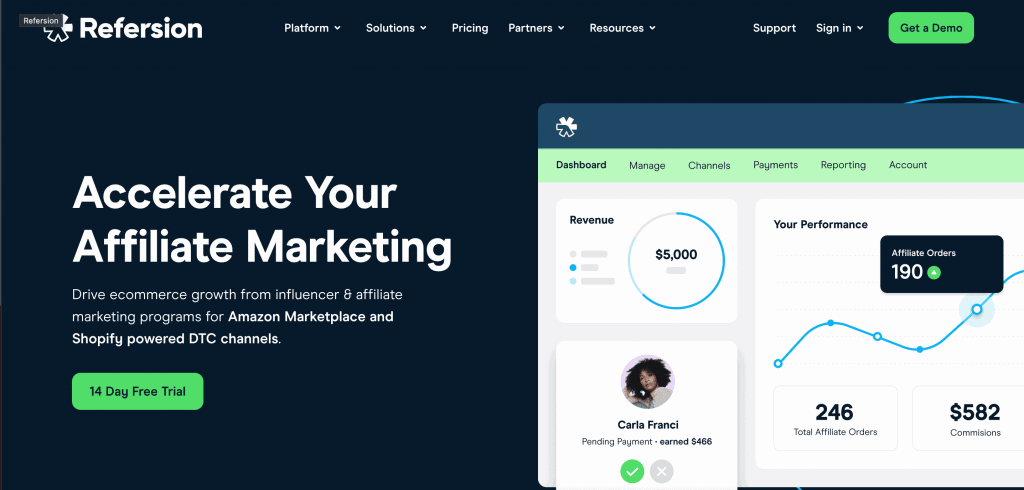 With the rise of e-commerce and online shopping, there has never been a better time to get involved with affiliate marketing. Refersion is an innovative app that helps businesses accelerate their affiliate marketing efforts by connecting them with influencers and bloggers who can help promote their products online. 
Pros‍
Designed to maximize your affiliate marketing
Seamless tracking
Data privacy is implemented
Cons‍
The starting plan is quite expensive
Key Features‍
Easily recruit affiliates
Dedicated affiliate dashboard/li>
Pay affiliates with ease
Pricing‍
Pricing starts at $99 per month.
Overall Impression
Whether you're promoting your own e-commerce store or selling products on Amazon Marketplace or Shopify, Refersion makes it easy to find the right influencers and keep tabs on your affiliate marketing program so you can focus on growing your business. With advanced tracking features and customized reporting dashboards, Refersion gives you everything you need to know about how well your marketing efforts are performing in real time.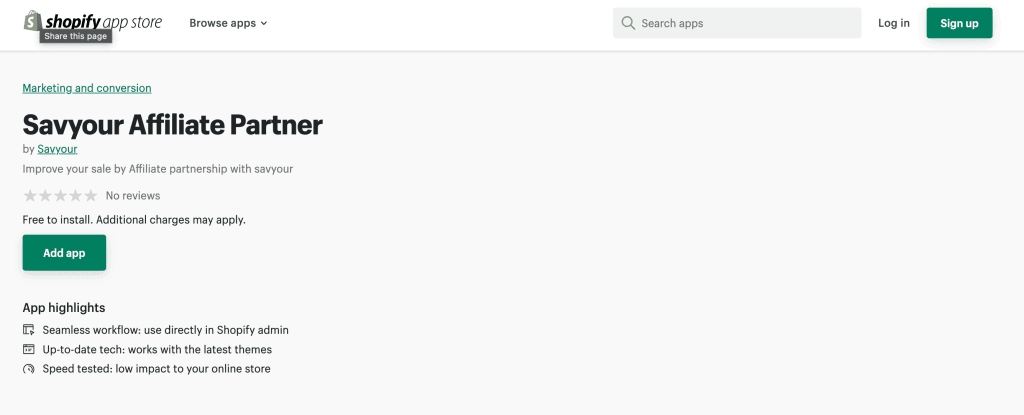 Savyour is a groundbreaking new affiliate marketing app that makes it easier than ever to boost your sales and grow your customer base. Designed specifically to work in conjunction with Savyour affiliate partner, this innovative software helps to embed a unique handshaking code into the platform, allowing communication between users to take place seamlessly and in real-time. 
Pros‍
Seamless integration with Shopify
Tested for speed
Works with various themes
Cons‍
The starting plan is quite expensive
‍Key Features‍
Leverage their affiliate network
They charge for every transaction made
Easily create an affiliate program in your Shopify store
‍Pricing‍
It is free to install but may have additional charges when you upgrade. 
Overall Impression 
Whether you're a merchant trying to get the most out of your affiliate program or an affiliate looking for new tools to help maximize your sales potential, Savyour has everything you need. With its advanced tracking capabilities, dynamic information exchange system, and innovative synchronization features, this app is the ultimate choice for anyone working in today's cutting-edge digital marketplace. 
Now that you know how to create Wix affiliate links, it's time to put them to use. We hope you found this guide helpful and easy to follow. Remember, the best way to learn is by doing, so start creating links and tracking your results! And if you have any questions or need help getting started, don't hesitate to reach out to us. We are always happy to help our affiliates achieve success.