Best Wix Affiliate Software (Updated Dec 2023)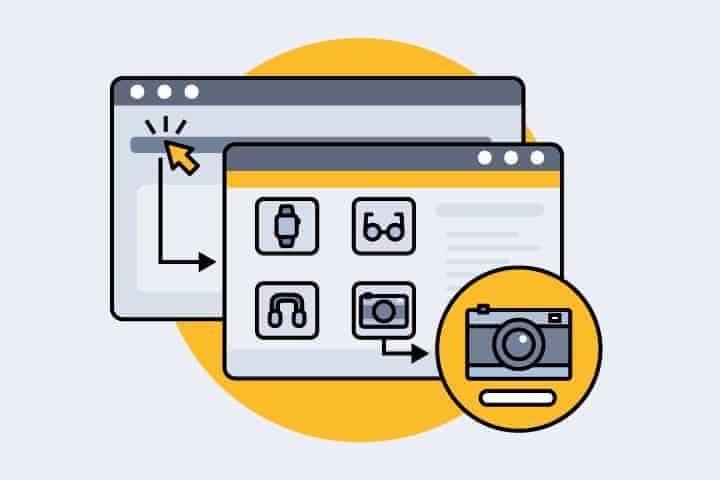 There are a lot of different affiliate software programs on the market these days. So, how do you know which one is the best fit for your business? In this blog post, we're going to take a look at some of the top Wix affiliate software programs and explore what makes them stand out from the rest. We'll also give you some tips on how to choose the right program for your business. Keep reading to learn more! 

As an online business owner, one of your top priorities is to build a strong network of affiliates and influencers who help to promote your brand. However, finding and maintaining reliable partnerships can be challenging, especially if you lack the specialized software needed to seamlessly manage these relationships. That's where the OSI Affiliate app comes in. 
Pros‍
Made for a variety of ecommerce platforms
Create your affiliate or referral program in a few clicks
Create a dedicated dashboard for affiliates
Easily pay all of your affiliates
Cons‍
Has a free trial but it is paid
‍Key Features‍
Social media sharing system
Best for influencer marketing and referral programs
Has different systems for different purposes
‍Pricing‍
Plans start at $47 per month.
Overall Impression
With its intuitive interface and powerful features, this software makes it easy to set up affiliate programs, evaluate marketing campaigns, track activity, and so much more. Whether you're looking for a way to increase your reach and web traffic or you simply want to streamline your affiliate management processes, OSI Affiliate is the perfect solution for getting the most out of your influencer programs.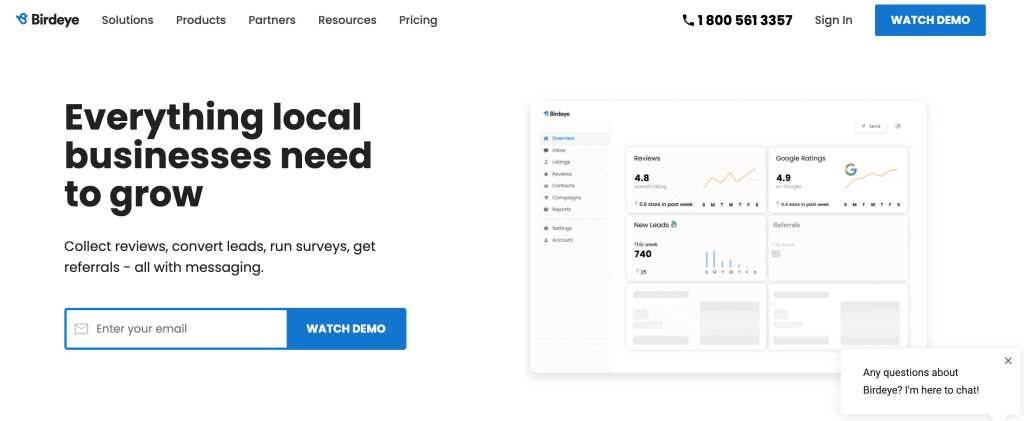 For local businesses looking to grow and compete in today's crowded marketplace, Birdeye is the app they need. With Birdeye, businesses can easily collect reviews from their customers, convert leads into sales, and run surveys and referral programs to attract new business. And because all of these functionalities are conveniently managed through messaging, it's easy for busy business owners to stay on top of all the essential marketing tasks that are crucial for success. 
Pros‍
Created for local businesses
Tons of integrations with CRMs and website platforms
Seamless integrations
Cons‍
May not work with some apps
‍Key Features‍
Manage everything that deals with social proof like reviews
Easily manage all of your clients in one place
Have a place where you can contact your customers and affiliates
‍Pricing‍
Prices can be unlocked when you sign up with your email.
Overall Impression
Whether you're a small shop or a large corporation, Birdeye has everything you need to thrive and grow in today's competitive landscape.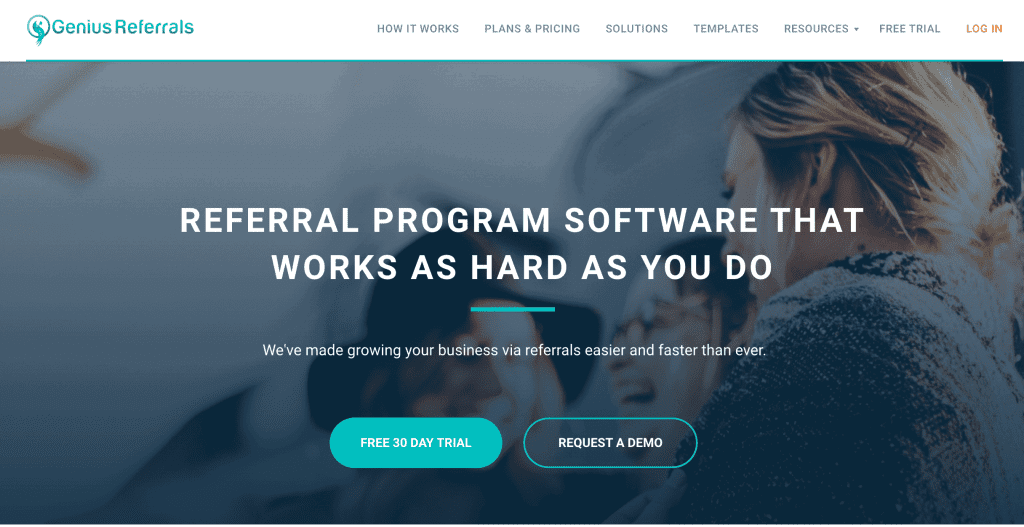 Genius Referrals is the latest and greatest referral program software on the market. Unlike other programs that only work part-time or are plagued by technical glitches, Genius referrals works hard around the clock to help you get more customers and increase your sales. Built on cutting-edge technology, this powerful tool can be customized to meet your unique needs and scale with your business as you grow. 
Pros‍
Great for creating a referral or influencer marketing campaign
Gives you the metrics that you need to make your campaigns work
It has various integrations for various platforms
Personalized service
Cons‍
No access to pricing unless you sign up
Key Features‍
Dedicated analytics on advocate dashboard
Easy notification for new referrals
Easy payout options
All metrics are recorded
‍Pricing‍
They have a trial and plans that start at $47 per month.
Overall Impression
Whether you want to run a robust referral program for your clients or create a unique customer loyalty program, Genius Referrals has everything you need to succeed.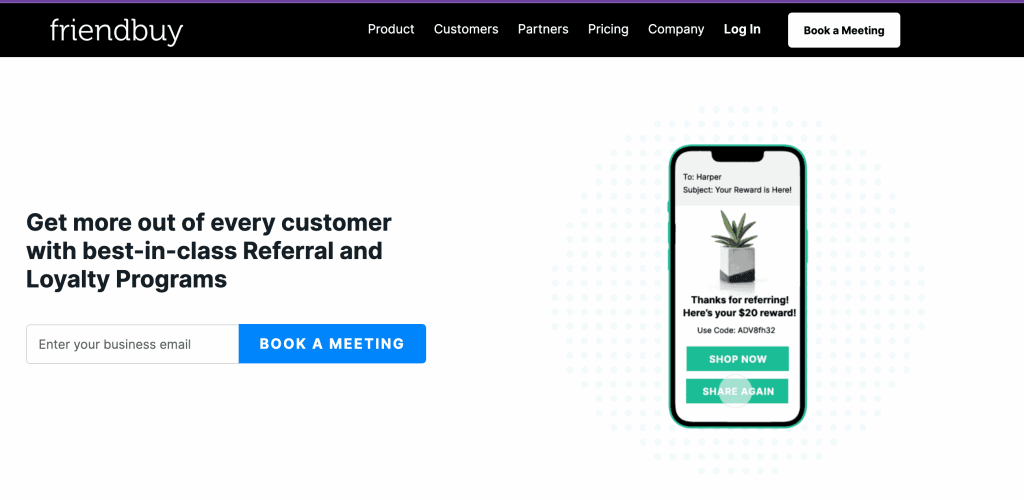 As any modern business owner knows, customer loyalty is key to success. Whether you're selling products or offering services, encouraging your customers to come back again and again can help to dramatically boost your bottom line. And while many businesses rely on the typical marketing tools like email blasts and social media promotions, those strategies often lack the higher engagement levels needed to really win over customers. That's where the Friendbuy app comes in. With its best-in-class Referral and Loyalty Programs, Friendbuy makes it easy for businesses of all sizes to connect with their customers and turn them into raving fans.
Pros‍
Ease of use
Easy integrations
Instantly see what people are saying about your brand
Has the option to share social proof with other people
Cons‍
Customer support is not as accessible
‍Key Features‍
Tailored launch roadmap
Customer-centric best practice guidance
Comprehensive program analysis
Data-driven recommendations for program optimization
Pricing‍
They offer a 30-day trial so you can test it before paying for anything.
Overall Impression
Simply put, this app offers everything you need to build meaningful relationships with your customers, encourage repeat purchases, and grow your customer base. Whether you're a small online retailer or a multinational company, Friendbuy makes it easy to create targeted campaigns that drive real results. The app allows you to quickly personalize rewards based on a customer's purchase history or interests, increasing satisfaction and encouraging further engagement. And thanks to its powerful analytics software and top-notch program customization options, Friendbuy gives you unparalleled insight into the performance of your programs at every step of the way.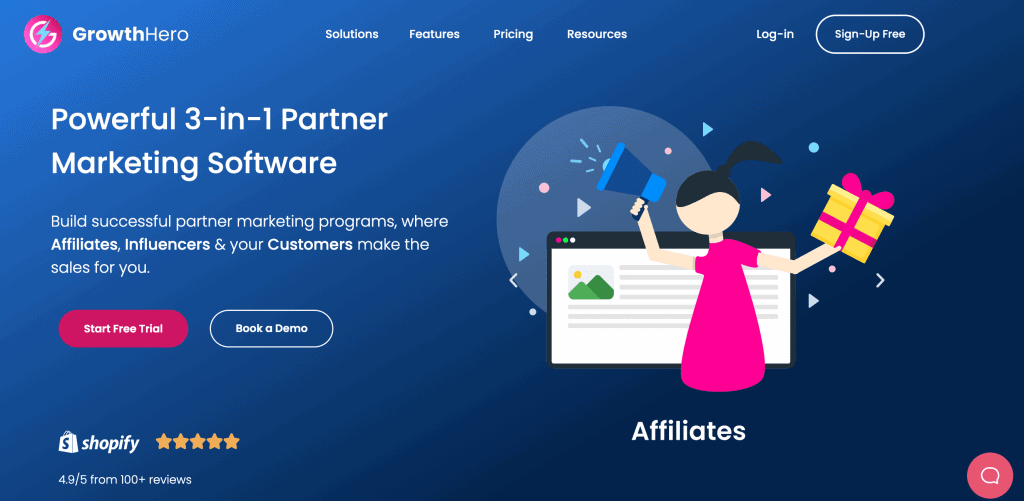 Looking for a powerful partner marketing software to help grow your business? Look no further than Growth Hero – a versatile and easy-to-use platform that can be used for a range of partner marketing programs. 
Pros‍
Amazing customer service
Easy to use
Best investment for an ecommerce store
Cons‍
Pricing is based on sales
‍Key Features‍
Allow unlimited programs
All programs are promoted in their marketplace
They also have a dedicated support system in place
‍Pricing‍
Their plans start at $49 per month.
Overall Impression
Whether you're looking for an effective way to recruit affiliates, connect with influencers, or tap into the power of your customer base, this comprehensive software has everything you need. With intuitive features such as custom pages, branded video editing tools, and robust analytics metrics, Growth Hero makes it simple to build successful partner marketing programs and maximize ROI.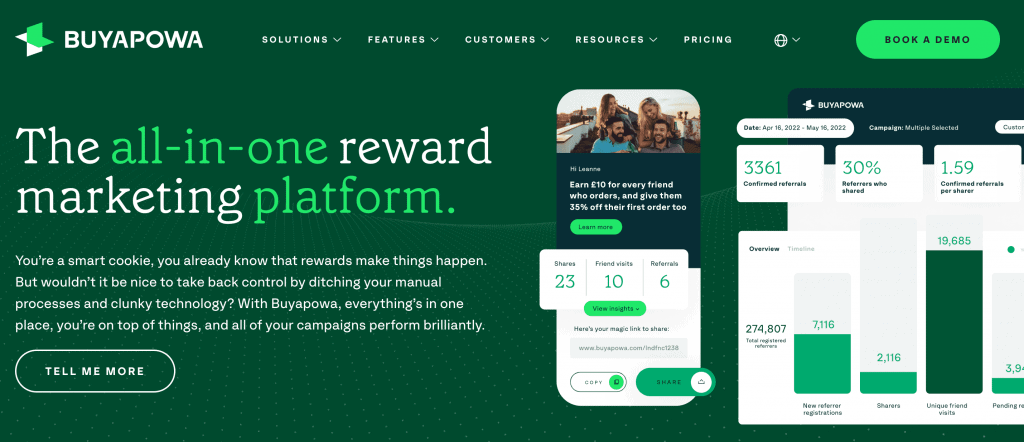 Looking for a way to increase engagement and customer loyalty for your business? Look no further than the Buyapowa app – a powerful platform that offers a variety of innovative solutions for managing referral programs, reward distribution, partnering with brands, and advertising. 
Pros‍
Really easy to use
Easy integration
Great for increasing sales
Cons‍
‍Key Features‍
API integration
Activity Dashboard/li>
Activity Tracking:
Affiliate Management
Pricing‍
Pricing is not indicated in their website.
Overall Impression
Whether you want to implement an automated referral program or partner with other businesses to drive sales and promote brand awareness, the Buyapowa app has everything you need to succeed. With cutting-edge features and a team of dedicated support specialists on hand, this app is the clear choice for businesses looking to boost sales and stand out from the competition.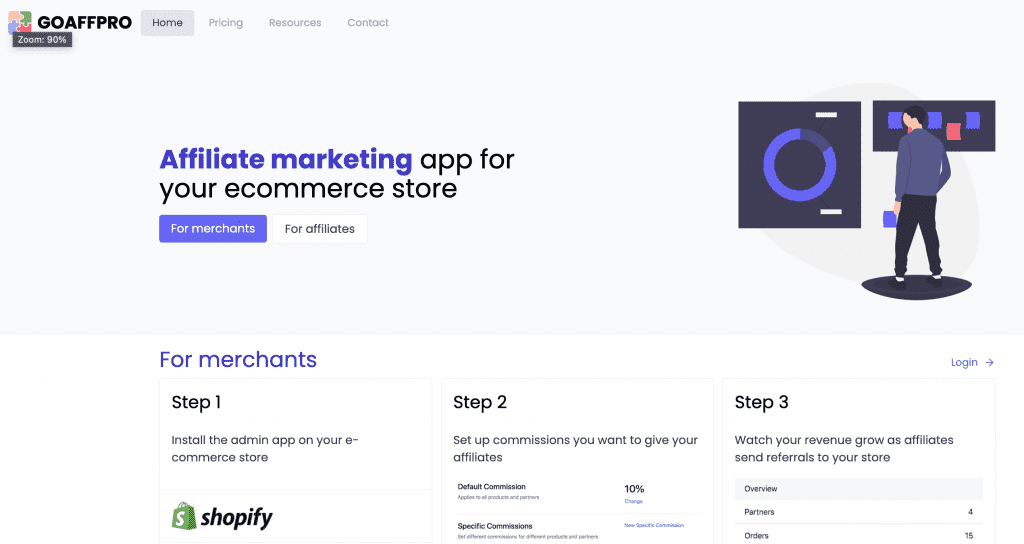 Goaff Pro is the ultimate affiliate marketing app for ecommerce stores. Whether you're just getting started with affiliate marketing or looking for a more powerful and feature-rich tool to turbocharge your efforts, Goaff Pro has everything you need. 
Pros‍
Best for affiliate and referral marketing campaigns
Easily track your referrals in one place
Quite cheap and has a free plan
Cons‍
Key Features‍
Created for ecommerce stores
With tracking and analytics
Easy to use
Pricing‍
They have a free plan but pricing starts at $24 per month.
Overall Impression
With comprehensive tracking, reporting, and analytics features, you'll be able to set up campaigns in no time and start maximizing your revenue. So if you're looking to grow your online store and harness the power of the most effective cutting-edge marketing strategy out there, look no further than Goaff Pro!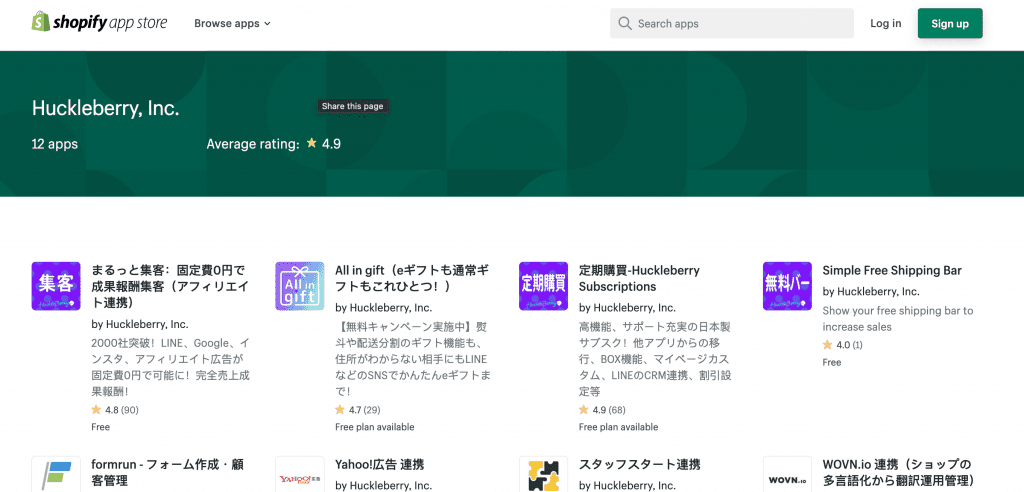 Affiliate Integrate is an innovative new app designed to help businesses maximize the effectiveness of their affiliate marketing campaigns. The app provides users with a host of powerful tools that make it easy to manage and monitor affiliate programs. 
Pros‍
Powerful tools to create your own affiliate program
Referral marketing gifting tool
Easily integrates with Shopify
Free to use
Cons‍
Difficult to understand because it is in Korean.
‍Key Features‍
Allows you to create an affiliate marketing system
Made for Shopify
Has analytics and affiliate dashboard
Pricing‍
Free to use
Overall Impression
Whether you're just starting out with affiliate marketing or already have existing campaigns in place, Affiliate Integrate is the perfect tool for helping you optimize your strategies and get the most out of your efforts. With detailed tracking and reporting capabilities, streamlined workflows, and a range of other advanced features, Affiliate Integrate has quickly become one of the most popular tools in the affiliate marketing space.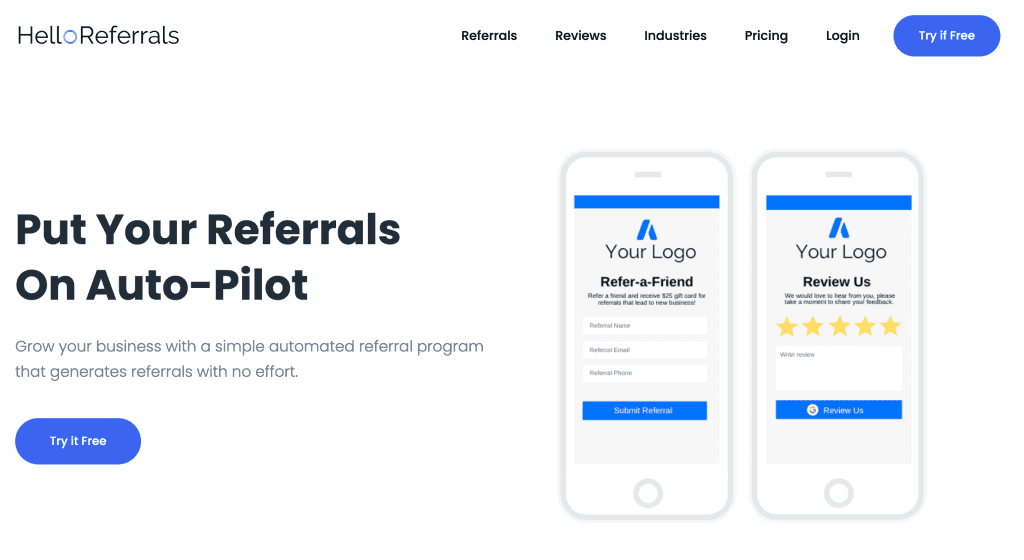 As anyone who works in business or marketing knows, referrals are hugely valuable when it comes to growing your customer base. Not only do they help you to reach new audiences and tap into word-of-mouth marketing, but they can also make it easier for potential customers to trust and engage with your brand. But generating reliable, consistent referrals is often easier said than done. That's why I recommend using a tool like Hello Referrals–a powerful app that makes it simple to put your referrals on autopilot. 
Pros‍
Easy to use
Easy to integrate
Best for increasing revenue<
Cons‍
Lowest plan is limited to one referral program‍
Key Features‍
Automated referrals
Referral communication syste
Seamless referral tracking
Pricing‍
Pricing starts at $49 per month.
Overall Impression
With Hello Referrals, you can automatically generate personalized messages and track the performance of your referrals in real time. Whether you're looking to increase sales or build a community of loyal followers, Hello Referrals is the perfect solution for automating your referral program and taking your business to the next level.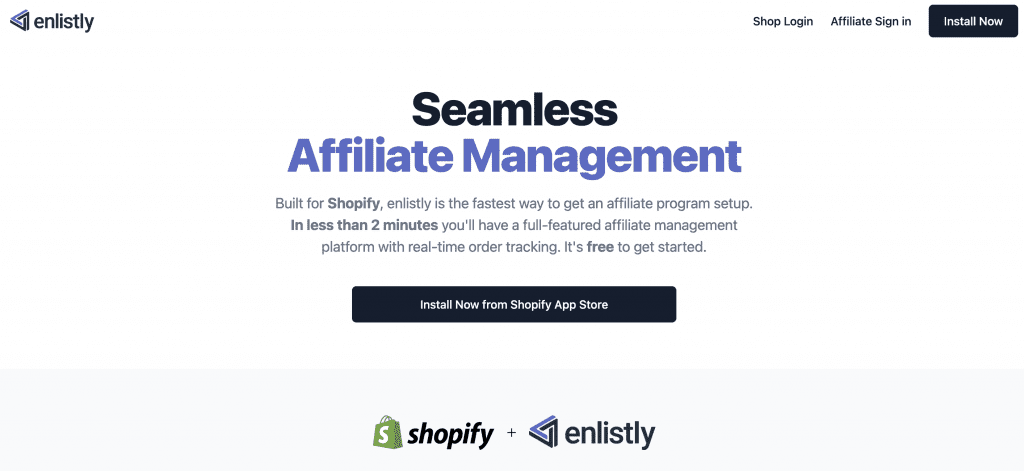 Looking for a simple and streamlined way to manage your affiliate program? Look no further than Enlistly! Designed specifically for Shopify merchants, this intuitive app makes it easy to set up your affiliate program in just a few minutes. 
Pros‍
Easy integration with Shopify
No coding knowledge required
Reliable tracking system
Cons‍
Limited to Shopify
Limited affiliates
‍Key Features‍
Affiliate marketing system
Referral marketing system
Integrates with most ecommerce apps
‍Pricing‍
The pricing is cheap and starts at $9 per month.
Overall Impression
With real-time order tracking and other powerful features, Enlistly is the ultimate solution for managing all of your affiliate activity. 
If you're looking for a comprehensive affiliate software that can help manage your program, we recommend downloading our Wix Affiliate Software. It's free to use and easy to set up, so you can start seeing results in no time. Plus, it integrates with Wix websites seamlessly, so you can keep track of your sales and commissions right from your site.