Best Ecommerce Resources – Updated Oct 2020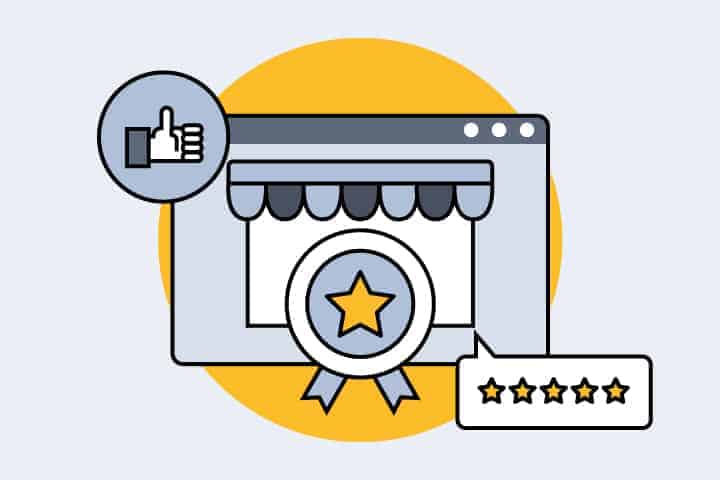 This guide will show you every ecommerce resource. We will detail everything you need to have awesome ecommerce resources that can increase your sales and traffic. In this guide, we will rate each software and let you know why we recommend it and then give you alternatives that can help you make the best decision.
Influencer Marketing Software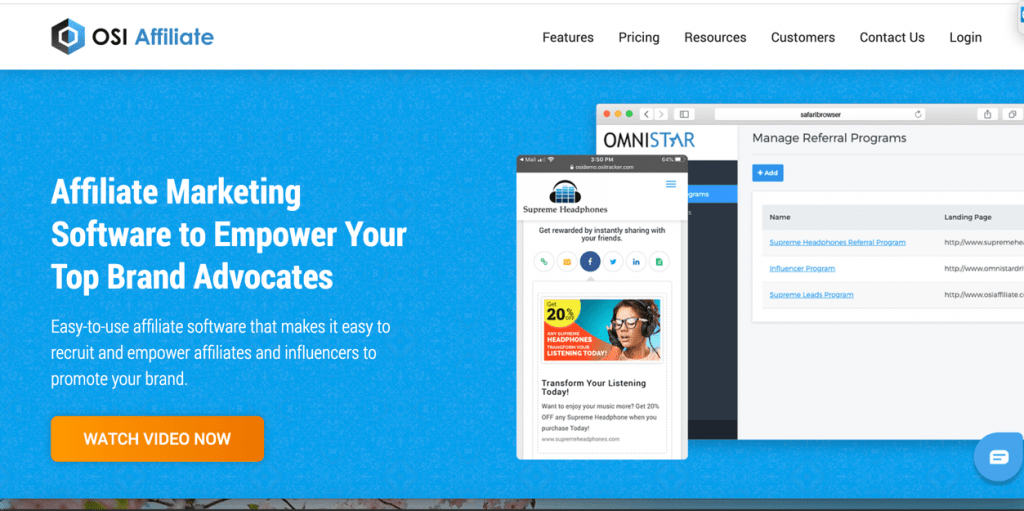 OSI Affiliate is a user-friendly referral system. It helps customers in setting up through this referral program when they first sign in. OSI Affiliate is an excellent marketing tool as it is pretty easy and fast to use. You don't have to spend a huge amount of time to set up OSI Affiliate, it will only take around 10 minutes for the complete setup. Moreover, the OSI Affiliate will also offer free integration for you. You can totally rely on them as they handle all the integration that is needed with the help of their team of experts. This influencer marketing software is definitely a must-try!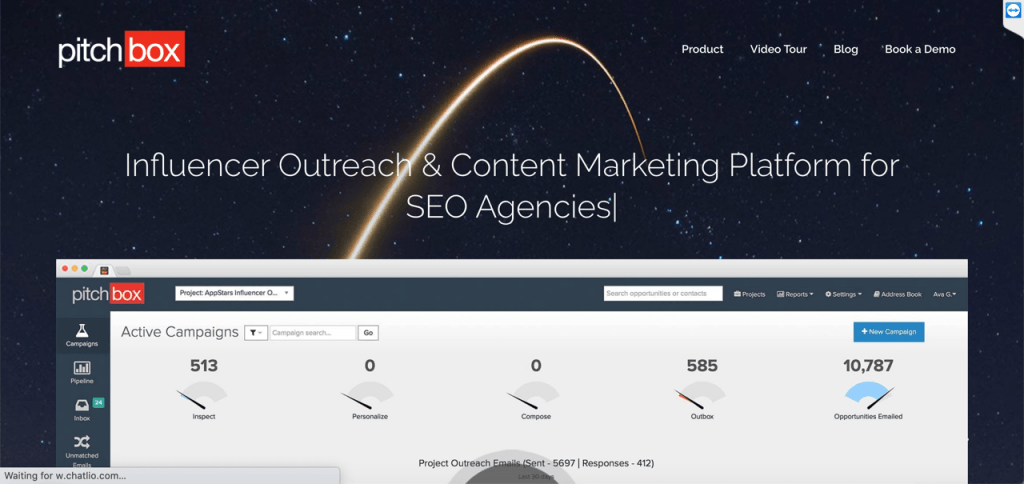 Pitchbox is an influencer marketing software that provides its services to large brands that have in-house marketing teams, SEO agencies, digital marketing as well as SEO and marketing consultants. This software is great if you want to build the linking and reach out as an influencer. It is the perfect platform for all the SEO agencies out there as well as brands. This software will help you in streamlining your outreach campaigns. It will help you in finding potential bloggers and invite many useful opportunities to your doorstep. You can also send follow-ups and personalized emails to clients as this will help you in maximizing your response.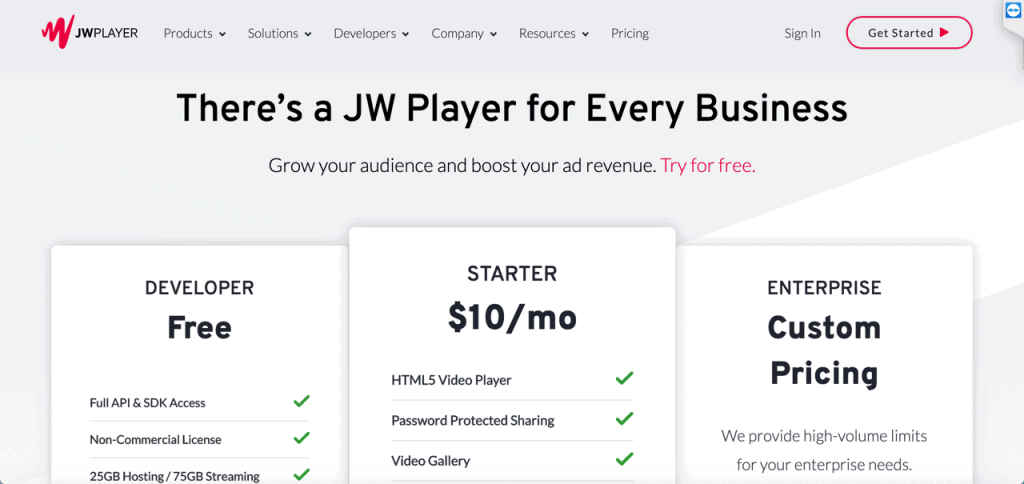 If you are a fan of video playing and an active live stream then this marketing software is for you. This software will help you with analytics and matching of articles. This software is great if you are a gaming addict. At times when we are playing our favorite games, we need to take it to the next level and this software will do the job for you. It will help you in getting the perfect custom video player skins, it will help you in engaging analytics as well as improve your capability of live streaming.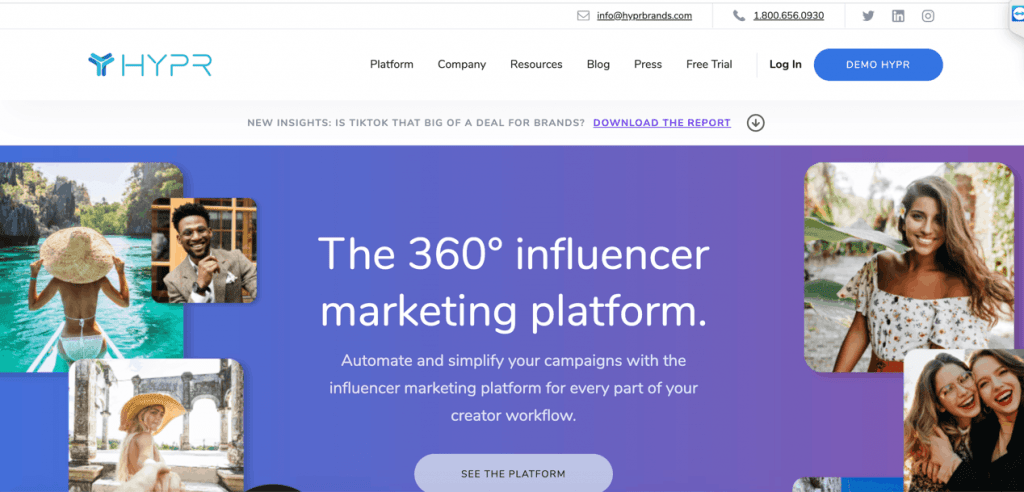 This is a great influencing marketing software as HYPR provides its services to various agencies and brands that are available all across the verticals. If you are into the fashion industry and are planning on taking your lifestyle skills to the next level then you should definitely consider using HYPR. it specifically serves the travel influencers, beauty, and fashion industry. With over 500 major agencies and brands they have partnered with, it is safe for you to try them for your own beauty businesses if you are just a beginner.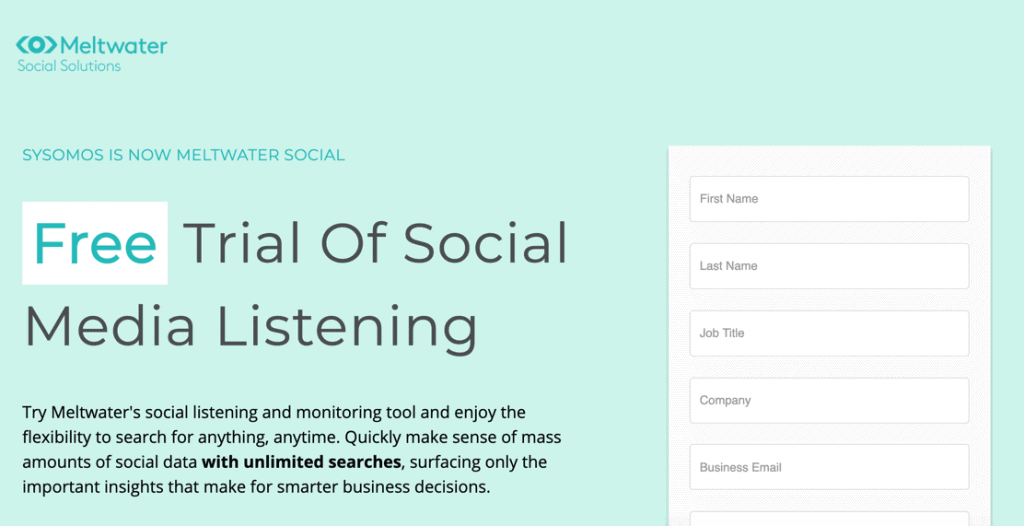 Welcome to number 5 on the list. The Sysomos platform is here to work with one of the top brands and agencies in the world. They are experienced influencer software owners who have helped various brands in turning their expertise into profitable incomes by applying the simplest of techniques and social strategies being used by the media. What you will be getting out of this software is a comprehensive data solution that will help you in driving your social strategy in the right way. With the right techniques used, you will be able to increase your rate of conversion and take your business to the next level of success.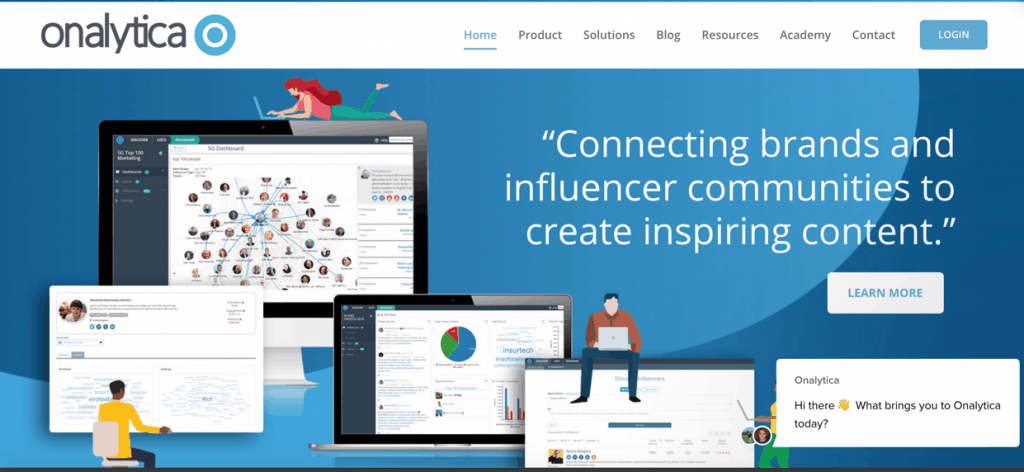 This influencer marketing software is designed to help PR professionals in effective communication and marketing. It will help you in connecting, identifying, building relationships, and interacting with various famous influencers on social media. With the help of Onalytica you will be able to improve your brand awareness and spread the word about your business everywhere. Onalytica was founded in 2009. It specializes in providing professional services to the br and agencies. It works with communication, digital, and PR professionals in order to help you create the best opportunities for your business.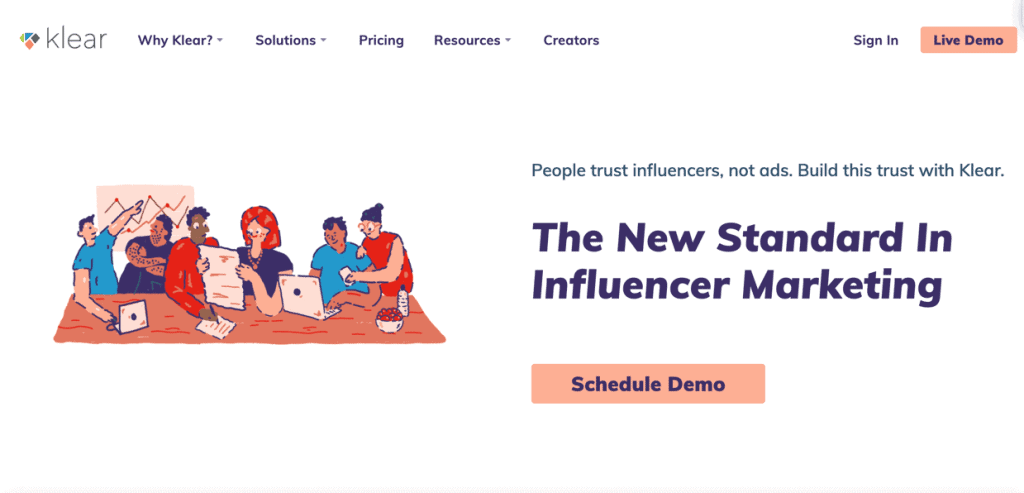 If you are struggling in finding the right influencers for your business and examine their usefulness to your business then you should consider getting Klear. This software will not only provide excellent marketing solutions to you but it will also help you in cooperating with the right influencers. The work of Klear is not limited to just finding the right influencers but it will also help you in cooperating with them in the right way to produce maximum profit out of any situation.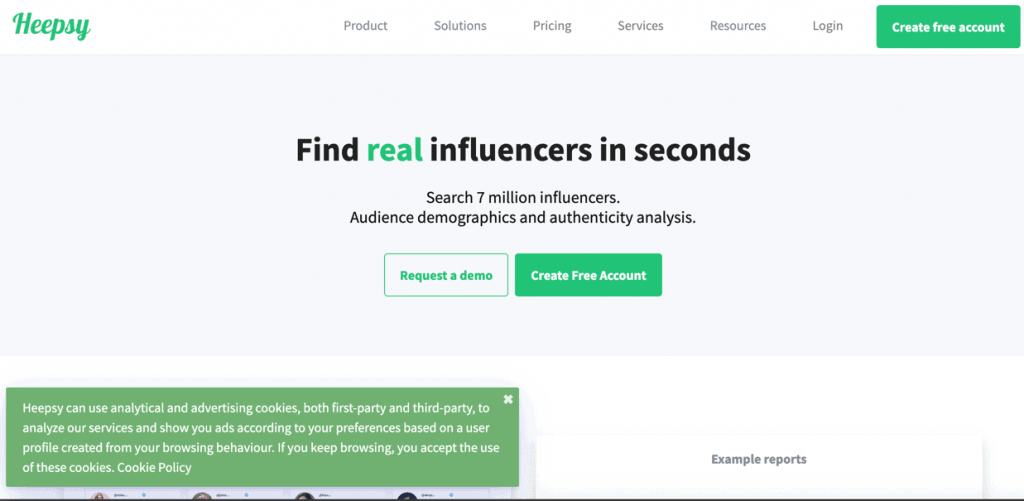 Heepsy is one of the most advanced software intended for advertisers, e-commerce, advertisers, and agencies that interact with influencers. This software will help you in finding the right influencers, it will help you to fake the analysis of followers as well as getting an estimate of the analysis of your audience. Heepsy is a software that will help you in reaching out and organizing. With more than 7 million influencers all over the world, Heepsy is going to provide innovative filters, businesses, and brands that you can collaborate with and improve your brand awareness.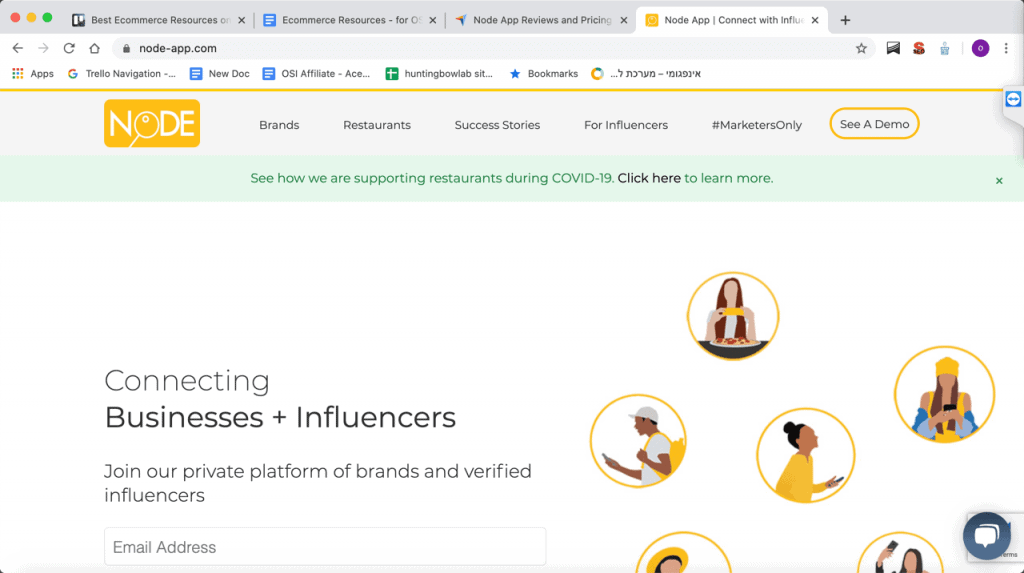 This influencer marketing software is intended for eCommerce, restaurants, and CPG Brands. It is an online marketplace that will help you in connecting your brand with the right influencers who will provide maximum benefit to your business. The Node App is available for free but it must be verified in-advance before the collaboration with other brands takes place. With the help of the Node App, you will be able to improve your brand awareness and take your business to the next higher level of success in just a matter of a few days.
Marketing Automation Software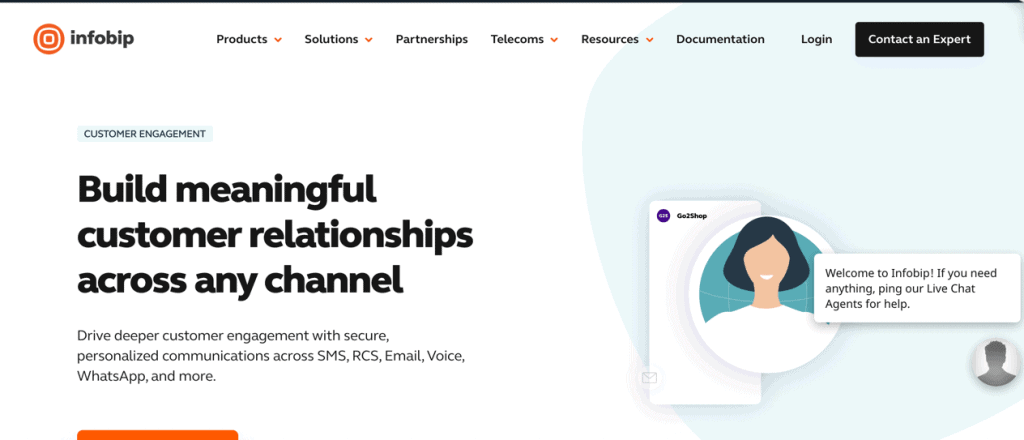 Here is a terrific chat app that will take care of all your customers using conversations and chatbots. Infobip is going to provide engaging and rich experiences to your customers by providing them exactly what they are looking for. This marketing automation software is going to take care of all your concerns when it comes to building the trust of customers and communicating with them effectively. Infobip provides a secure, easy, and faster way to connect with your customers. With Infobip in action, your customers will no longer have to exit the website as their concerns will be well taken care of by chatbots.
Brightpod is another awesome marketing automation software that is going to provide you exceptional services. It is a solution for project management for all types of marketing enterprises. This software will provide many awesome features and services like tracking the traffic flow of your customers, automated workflows, tasks listing, insights, cross-project prioritization, and a lot more that can be helpful in growing your business. Brightpod is an excellent software that can help you in growing your business rapidly. It will take care of all your professional requirements when it comes to handling a business.
This marketing automation software is intended for large scale business enterprises, small scale businesses, non-profit organizations, and middle-sized businesses. In short, Picreel is suitable for all types of businesses no matter how big or small. It uses an awesome technology of marketing that will give you an opportunity to avail value from visitors who seem to be abandoning your website and their carts. Picreel is the ultimate solution you need when it comes to increasing the traffic on your website. It can drag high-quality leads by providing tailored offerers to the visitors. This software will help you in tracking the behavior of visitors on your website so that you can improve your performance.
Platformly is another awesome marketing automation software that is most suitable for the growth of marketers, SMBs owners, and SaaS. This software features awesome services like tracking the interaction with customers, interaction with users, real-time dashboards, growth of management, and a lot more. Platformly is a marketing tool that is very powerful and amazingly easy to use. The reason why this software has made it so easy for businesses to achieve their goals is that it lets them track the activity on their website and drive more sales using the latest techniques.
Adobe Campaign is the only marketing automation software that will provide fantastic services like management, automation, and optimization of programs across emerging and traditional channels. This includes email, direct mail as well as interaction through mobile. With the help of lead management solutions and direct marketing of Neolane's cross-channel, you will be able to manage the campaigns, resources and analyze customer data by using a single platform. If you want to improve your performance dramatically and increase your ROI then Adobe Campaign is the right option for you. So make sure to check out all the awesome features they are providing and make the most of it.
If you are a blogger on Instagram or Youtube or own an e-commerce business then Influence is definitely recommended for you. It is a platform that is designed to help you in analyzing the rates of conversions of your website. You will be able to monitor the view counters of your website as well as tracking the activities of visitors on your website. This is an awesome marketing automation software that will help your business in boosting sales as well as lead functions along with live visitors features, social proof as well as real-time activities. Influence is an awesome software for marketing automation and if you are having trouble running your blog then you should get this software.
If you want to maximize the referrals on your website, increase the growth of revenue on your website with automated communication with the customer as well as increase conversion of traffic then Referral Marketing Automation is the right software for you to grow your business rapidly. Starting at just $49 per month, this marketing automation software is going to take care of all your requirements when it comes to analyzing user activity on your website, effective communication, and a lot more.
The SalesNexus marketing automation software is intended for medium-sized teams of B2B sales from the range of 5 to 500. What this marketing automation tool will do is ease out all your solutions when it comes to communicating with other salespeople. SalesNexus will provide an excellent service that will help your business in growing rapidly with its unique solutions to everything. This software will also allow you to manage your professional relationships with the campaigns that are already in the process making it more effective for you to score that first profit.
This marketing automation software is suitable for small businesses to benefit around 100 companies. Snappii will provide various apps of mobile for the purpose of marketing an easy-to-use solution of mobile that will help you in the management of leads as well as other prospects. This will enable you to get accurate and rapid data collection so that you can evaluate the information of your customers in a convenient way. With the help of Snappii, you will be able to upload your own PDFs by editing them as well. With Snappii, you don't have to create any forms. All you have to do is work effortlessly and neatly with the help of this awesome marketing automation software.
Email Marketing Software
If you are looking for a CRM system that offers email marketing for free then you should definitely consider getting Bitrix24. It has several features that are unique as compared to others and this makes their services a must-try for any business. First of all, this software will offer customer relationship management software that will help you in creating any amount of dynamic or static segments. Eventually, you will be able to craft a different email campaign for every respective group of clients or prospects. Bitrix24 also offers trigger-based emails and email marketing automation.
If you are looking for an intuitive and affordable email marketing software then we would recommend you to try out SendX. This software offers a variety of services and features that include sending unlimited email campaigns, building your email list, and automated advanced email sequences. All of the three features combined will enable you to carry out your business activities effectively. Email marketing is something that can help a business grow rapidly and this email marketing software is exactly what you need if you want to keep going. The best part about using SendX is that it is a very affordable email marketing software.
As unique as the name sounds, Moosend is another awesome email marketing software on our list. Let us tell you more about this software. It is an all-in-one platform for marketing that will take care of all your business needs. This email marketing software is intended for both beginners and professionals. They are offering unique features for any size of business no matter how big or small. Moosend will help you in delivering robust emails that will definitely get opened and clicked every single time. The website of this email marketing software is quite amazing and their services are just as awesome.
Agile CRM is another email marketing tool that will provide you a range of prepackaged templates for email marketing that will offer a visually appealing and professional look to your business. This software will provide its services in a way that will fit all your business needs. Agile CRM will also give you a chance to try out their email marketing templates just to be sure of the quality of services you may be getting. The specialty of this software is that it will allow you to send professional newsletters, emails, and also give you an opportunity to personalize them according to your own taste.
Welcome to the sixth email marketing software on our list – EmailOctopus. This software is perfect for you if you are looking for an all-in-one kind of service. They offer many features including sleek and simple designs that you can choose via drag and drop option provided on their website for all devices. Another important feature is the easy automation that will help you in setting up email sequences as well as let you engage with your subscribers without having to send the campaigns manually.
If you are looking for a potential email marketing software that will help you in growing your business then SENDER is the perfect recommendation for you from us. This software will allow you to engage with your customers quickly and easily to grow your business in a positive manner. The best part is that this feature can be availed without having to spend large amounts of money. Another feature includes automation that will serve as reminders of abandoned carts, birthday greetings, and many other useful features. SENDER will allow you to work with their visual workflow editor that will make things even easier for you.
EngageBay is a very powerful email marketing software that will help you in growing your business rapidly through email marketing. They have displayed pre-designed email templates for you on their website to choose from and you can also create your own templates based on your preference. They will give you an opportunity to personalize every little detail of your email so that you can send in just one click. This email marketing software will also help you in analyzing your results so that you can manage and estimate how effective your emails really are.
We are all familiar with Gmail and there is no doubt that Gmail can be one of the best when it comes to cloud-based email marketing. Gmail offers a variety of solutions that will help you in creating custom addresses. They will also provide the feature of sending bulk emails to get in touch with all your customers. Gmail is a cloud-based email marketing software that will help you in sending, receiving, organizing, translating, and scheduling important emails across multiple accounts of active users. Gmail can serve as an awesome email marketing tool because of its versatility and the fact that the majority of people and businessmen across the world are using Google for business purposes.
MailerLite is an email marketing software that has its focus on excellent customer support, simplicity and amazingly beautiful designs of emails. Unlike other softwares on the list, the goal of MailerLite is to provide a rather simple procedure to get going with email marketing easily instead of investing in complicated systems that are hard to understand. With MailerLite you will be able yo create the most beautiful email campaigns, manage subscribers and unsubscribers as well as track their results to offer you an excellent service when it comes to email marketing.
SalesHandy provides tools and features to Increase the efficiency and effectiveness of your emails and business collaterals giving it an exceptional reach. On top of that you will get detailed recipient engagement data to help you make informed decisions.
SmartrMail is an email marketing app that integrates natively with the most popular e-commerce platforms including Shopify, Bigcommerce, WooCommerce and PrestaShop. The app is dedicated to the needs of merchants and lets users set up all the best practice commerce automations like abandoned carts, welcome series and win-back campaigns. Along with the ability to send manual email newsletters. SmartrMail also comes with plenty of pre-made templates that let you get sending straight away and features a visual automated flow builder that lets you set up more advanced email automations if you want to take things to the next level.
Lead Management Software
With the help of Pipedrive, optimizing your sales pipeline and tracking leads couldn't have been easier. This lead management software is quite powerful yet agile. It will take care of all your business needs. Their focus is to transform your leads into potential buyers so that they can also enjoy Pipedrive's simple and intuitive design. Moreoever, Pipeline is going to support your business by being able to integrate with hundreds of similar lead generation apps and integrations. Their powerful mobile CRM will give you an opportunity to proceed with managing and converting prospects.
Are you aware of the fact that around 2% of the visitors on your website end up actually contacting you to proceed with their order? Now just imagine the number of opportunities and great chances to score awesome sales that you have been losing. Ebolution360 will help you in identifying the companies and public institutions that are more likely to visit your website without having to proceed with any unnecessary forms. This lead management software will help you in tracking all the visitors, implying a filter on the individuals who are private, irrelevant parties, and bots.
If you need support for every business activity in its lifecycle including lead generation and contract renewal then HarmonyPSA is the right lead management software for you. Specifically designed for services and software businesses, this software will help your business with automation functions using just one platform. It is also available on any cloud device which means that this software is quite versatile. HarmonyPSA is your shot to secure awesome sales to your online business as it will help you in tracking all the activities of your visitors. It is a great tool that supports the whole lifecycle of a business from the smallest to the largest detail.
Welcome to number 5 on the list. EngageBay is your ticket to an affordable and all-in-one business marketing and sales CRM that will help you build up your small businesses as well as serve your larger business as well. This software will help you to start up, acquire, and engage the visitors on your website and eventually convert them into happy clients. This lead management software will lead the clients directly from your website to your inline forms and then arrange them with the help of robust management tools. The best part is that all of this can be achieved using just one software.
If you are looking for a lead management software that will serve all small scale, middle scale and large scale businesses then Zoho CRM is the right option for you. With the help of Zoho CRM you will be able to build your own version. This technique will help you in getting smarter and working smartly to achieve the maximum profit throughout your business. Get ready to increase your sales faster than any other business. Zoho CRM will help you in tracking the opportunity that can never be missed and speed up the process of conversions to boost your sales and take your business to the next level.
Deltek Vision is here to support the services firms of professional IT and management consulting, engineering, marketing research, and architecture. This lead management software is a solution that is project-based and helps different firms in combining their resource management, project accounting, time management, expense management, project management, and customer management all in one. Deltek Vision is a lead management software that is web-based but also supports cloud version making it quite versatile and easy to use.
If you own a small or medium scale business then Vtiger CRM is the most suitable option for you. A business that needs constant customer support, agile sales, and teams for marketing is the business that has the chance to score higher when it comes to profit. Vtiger will help you in delivering ultimate customer satisfaction effortlessly and at a lower cost too. Vtiger is quite easy to use and it will help you in managing all your sales activities from the generation of leads to closures of deals and contracts. Vtiger will help you in capturing and identifying high-quality leads and nurture them through SMS campaigns and automated email.
Number nine on our list is the SAP CRM. It is a lead management software for marketing, customer service teams for any size of a business organization, and sales. SAP CRM will help you in maintaining healthy relationships with your customers. It will maximize your customer insights and improve the efficiency of your website at the front-line improving the efficiency ultimately. SAP CRM is the perfect lead management software that will help you in streamlining crucial procedures of businesses without having to put up a lot of effort. This software will help you in adapting to the changes in business quickly and the changing needs of customers.
Last but not the lease; BuzzBoard is a lead management software designed for companies that have their focus on SMBs. BuzzBoard will provide its services so that you can uncover the insights that are data-driven. This will help you in driving more conversions than any other marketers or sellers. Eventually, you will end up with increased sales in just a matter of some time. BuzzBoard offers unique features by offering an extensive collection of business intelligence that is related to SMBs. So make sure to check it out.
SmartFinancial Helps insurance shoppers save money on insurance by using innovative technology. SmartFinancial has revolutionized the insurance-buying experience with a transparent insurance-technology platform that pairs people with the right insurance carrier.
HubbleHQ uses office search alchemy to take the complexity and guesswork out of finding your perfect office space.They have developed the industry's most advanced tech platform, optimised to simplify and supercharge your search by analyzing millions of data points on spaces, places and cities to find the ideal match for your business.
This tool lets you create one bio link that directs your audience to all the different articles, events, sites, and shops that matter to them most. You can create a unique bio link and add new content to the gallery over time. With LinkGaller you can get detailed click stats from your audience and enhance your users' experience by directing them to specific destinations based on their behavior. Let me know if you need more from my side.
Venngage is an online graphic design tool that enables businesses, nonprofits and classrooms to create engaging visuals. They offer an extensive library of templates for infographics, charts, white papers, social media graphics, slide decks, reports and more. Venngage's drag-and-drop canvas, one-click branding features, and team collaboration features make it easy for anyone of any design level to create professional designs.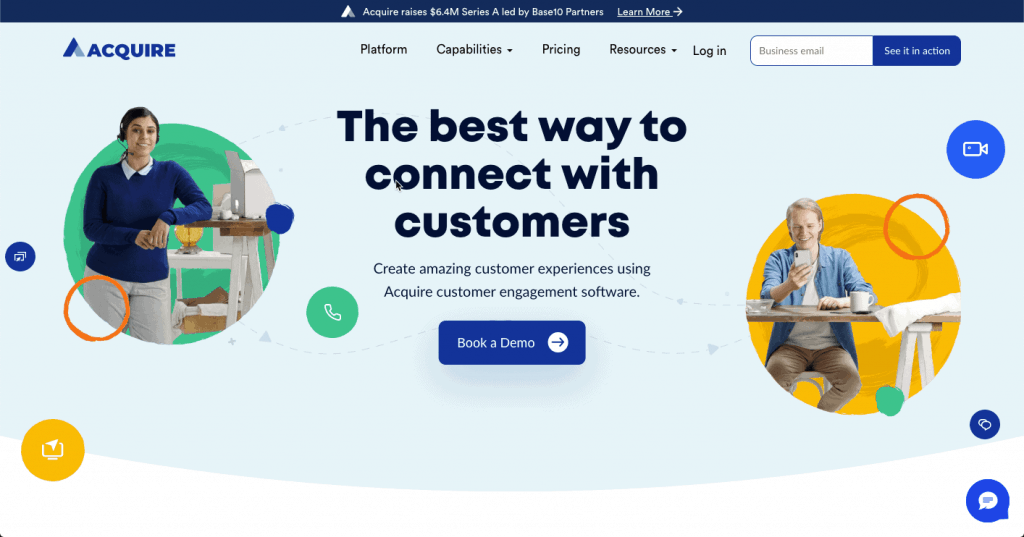 Acquire is a multi-channel customer communication software with integrated live chat and helpdesk features. The platform is focused on enhancing the user experience through its live chat, chatbot, co-browsing, analytics, and VoIP calling features.
In addition to these, the platform also has other capabilities like email automation, video chat, and VoIP calls. The platform also has many integrations like Zendesk, Zoho CRM, Salesforce, Hubspot, Zapier, Slack, Google Analytics, etc.
Salient Features:
Real-time customer support

Co-browsing

Auto-suggested responses

Note and multilingual features

Escalated customer conversations.

Personalized support

Profile management
Content Marketing Software
Zerys is a simple, powerful, award-winning content planning and production platform. It allows you to plan your content, find top writing talent, and create custom, optimized blogs, white papers, and ebooks your readers will want to click, read, and share!
Contently helps brands tell great stories. We're the leader in the content marketing space as the industry's only end-to-end solution to marketers' biggest challenge: creating content that'll truly engage their audience and make every aspect of their digital marketing perform better.
The secret to our success is our content marketing platform, built by content marketers for content marketers. It has 7 core products offering hundreds of applications. This includes access to our data-driven content strategy solutions and our global network of 160,000 award-winning content creators — giving you everything you need to build meaningful relationships with your customers.
The world's best DAM powered Brand Portals. Brandkit is a Fast, Friendly and Flexible brand centric DAM powered Brand Portal (aka Content Hub, DAM, Media Centre) software as a service. It's for marketing teams and centralises all digital marketing content in a single central repository, providing Brands with a Content Search Engine and the world's best self service Brand Portals. Various File Sharing options include a Self-Service Brand Portal, shared collections/lightboxes, WeTransfer like sending built in, RSS image feeds, Automated notifications, Emailed updates, Collaboration features, Commenting, Approval workflows, 3rd party Integrations and more.
Pllanable is literally a centralized hub for all your social media content, feedback, and ideas. As social media marketers, we often engage in time-consuming preview processes for our scheduled posts. This leaves extremely little time for experimenting with our marketing strategies. It allows you to preview your social media posts as though they were live. You can create engaging visual content along with your team members in one go. In fact, they call it "content creation on steroids". It is rich in details and allows you to duplicate posts for the intended channel separately. It allows you to gather feedback where it makes sense, right next to the post. You can tag team members and choose to send notifications to the right people.
Improvado is a true marketing ETL platform that frees up engineering time while giving marketers the data they need.
What you buy from Improvado is beyond the aggregation and standardization you'd expect to build yourself: you buy a world-class solution that is focused, around the clock, on continued innovation and automation, to give you unrivaled insights and optimization capabilities.
Our teams build and support integrations, improve infrastructure and monitor system performance, and constantly work to add new features.
Our data science team is devoted to spotting discrepancies, and our technical support team is working 24/7 to handle any data flow errors or API issues that arise, and our first-class customer success team is always available to make sure the platform is serving your needs.
If you need to grow your organic traffic and improve audience engagement, WordLift is the AI-powered SEO tool you're looking for. Available as WordPress a plugin and as and as JavaScript library for any other CMS, it translates web pages into machine-friendly content that chatbots, search crawlers, and personal digital assistants can understand and use. The secret behind WordLift is structured data. This unique SEO tool creates a knowledge graph out of your texts, opening a wide range of new opportunities for semantic content recommendations, interlinking, data visualizations, and performance measuring.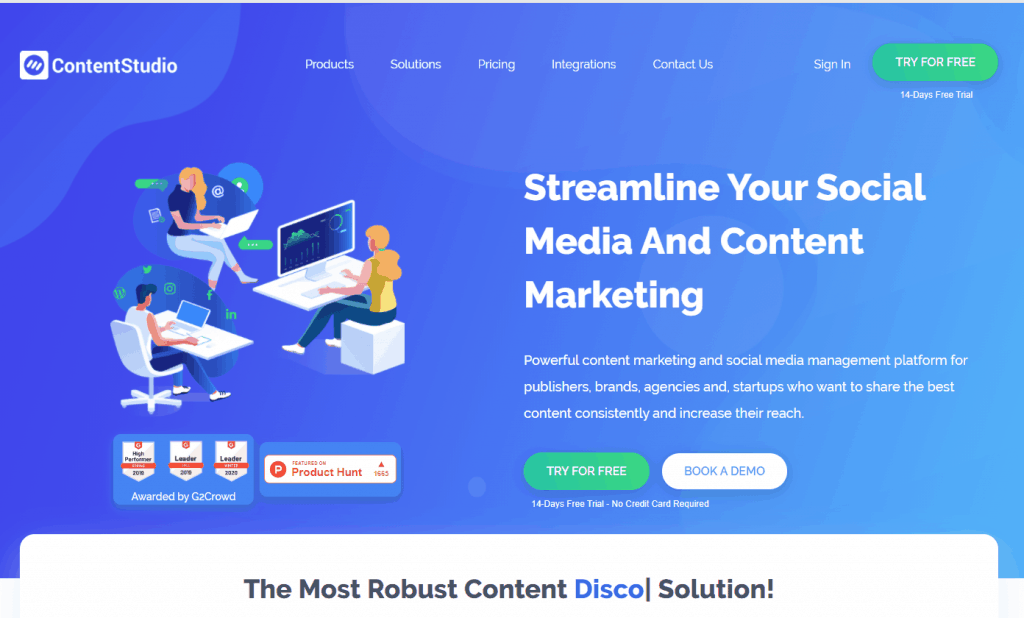 Discover, Curate and distribute your content with just one click! This is what Content Studio is all about, making your marketing easier within your budget. You can stay up to date with the trendy and updated content across the web with content discovery and plan your content calendar as well by side. You can share your content piece across all social channels and keep track of your social media analytics and also manage your direct messages at one place.

Dialogfeed.com is a SaaS solution helping to boost, republish all your social media content. For instance, instead of running separate APIs to integrate different social networks into your website, you can use an app such as Dialogfeed to implement a unified social wall feature. This has the added benefit of ensuring compatibility between features when compared to using separate APIs for each task.
Diginius is a software and solutions provider that empowers organisations to achieve the maximum impact from their online sales and marketing activities. With its integrated platforms, dashboards and systems services, businesses can optimise their efforts with insight-led activity for best in class marketing results.
THRON is part of both the DAM (Digital Asset Management) and the PIM (Product Information Management) family: it is a platform on the cloud that helps brands manage, control and distribute their content and product information across all channels, removing duplicates, simplifying approval and publication processes, and reducing infrastructure and integration costs. At the same time, it also collects insights on the users, in order to personalize the communication with them.
Marketing Analytics Software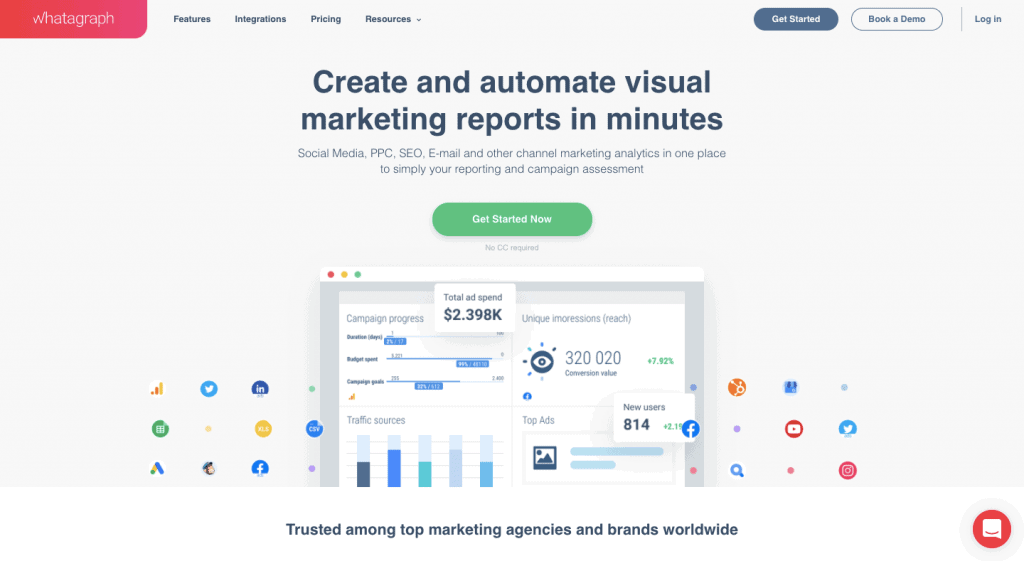 Whatagraph offers a solution created for growing digital marketing agencies and in-house marketers. It ultimately simplifies and automates your time-consuming and confusing digital marketing analytic reporting routine. Whatagraph collects data directly from various digital marketing channels and presents it in an easy to understand visual way. You can use a variety of premade report templates and share self-explanatory reports with your team or clients. This allows you to both save tons of time on reporting and presenting data in a way your coworkers and clients can effortlessly understand. Such visually advanced digital marketing reports help you follow and understand the vast amounts of different numbers behind your digital marketing channels, website, e-commerce website performance in a matter of seconds. The full automation of reporting processes offered by Whatagraph saves time and allows you to focus on scaling and growing your business!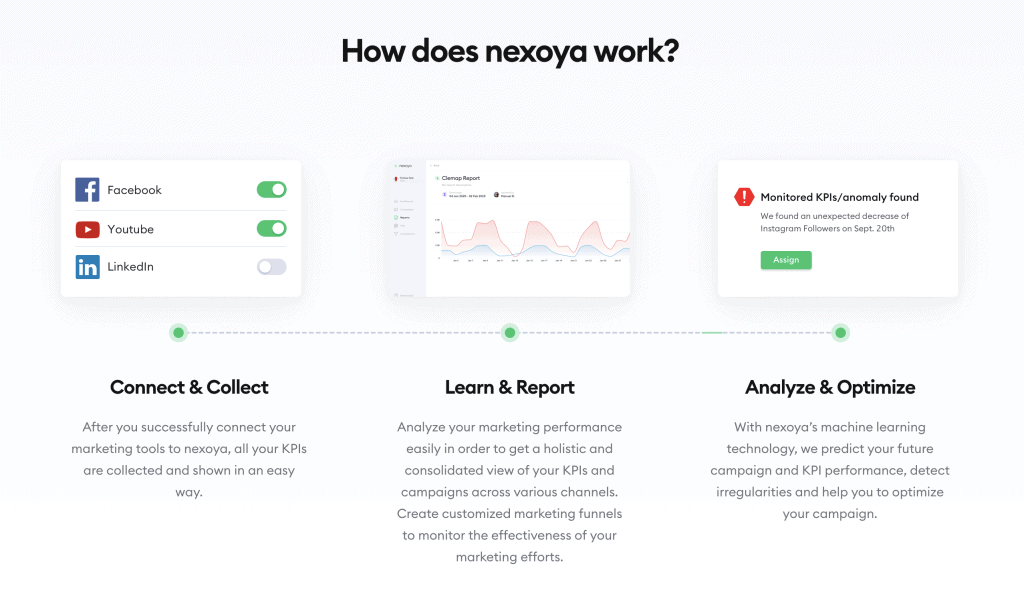 Nexoya is an AI marketing analytics software that helps digital marketers to keep a better track of their marketing performance, receive advice and notifications on unusual events in their data, get marketing campaigns and KPI predictions and create reports easily. Furthermore, nexoya's machine learning algorithms enable a more cost-effective marketing budget allocation and marketers can get more out of their marketing campaigns without wasting their budgets on inefficient campaigns.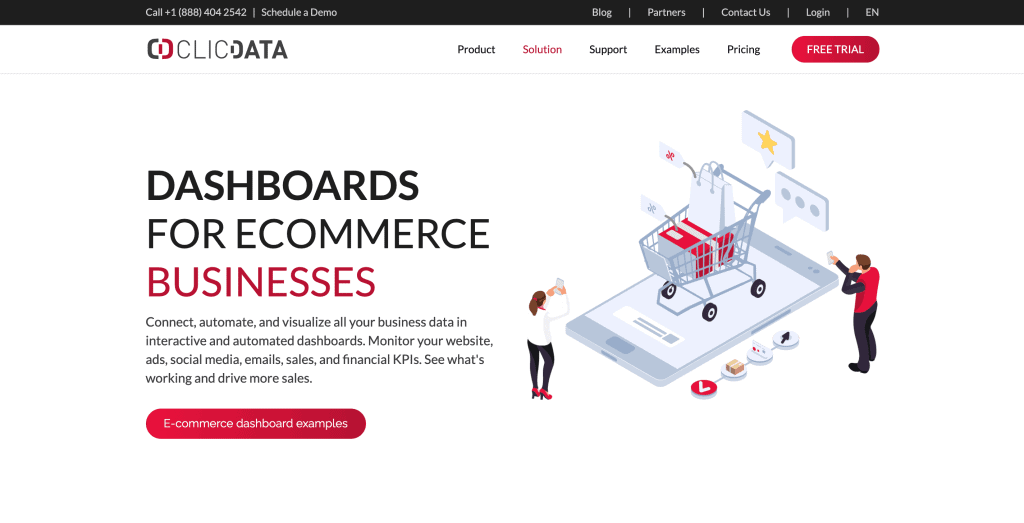 ClickData is a 100% cloud-based BI tool that is used by hundreds of marketing teams and e-commerce businesses in the world to measure their ads ROI, and the performance of their social media, SEO, website conversions and email campaigns. The platform offers over 250 connectors including popular marketing tools such as Google Analytics, all social media networks, WooCommerce, Shopify, Google and Bing Ads, Mailchimp, Constant Contact, and many more. It comes with a built-in data warehouse to store and manage all your business data in a single place. You can also set automated data refreshes -up to the minute- and alerts to always stay on top of your KPIs. You can also build custom and fully interactive dashboards with over 70 visualization options and an easy to use drag-and-drop designer. With ClickData, you have the ability to share your interactive dashboards and real-time KPIs with internal or external users via a live link. You can try it for free.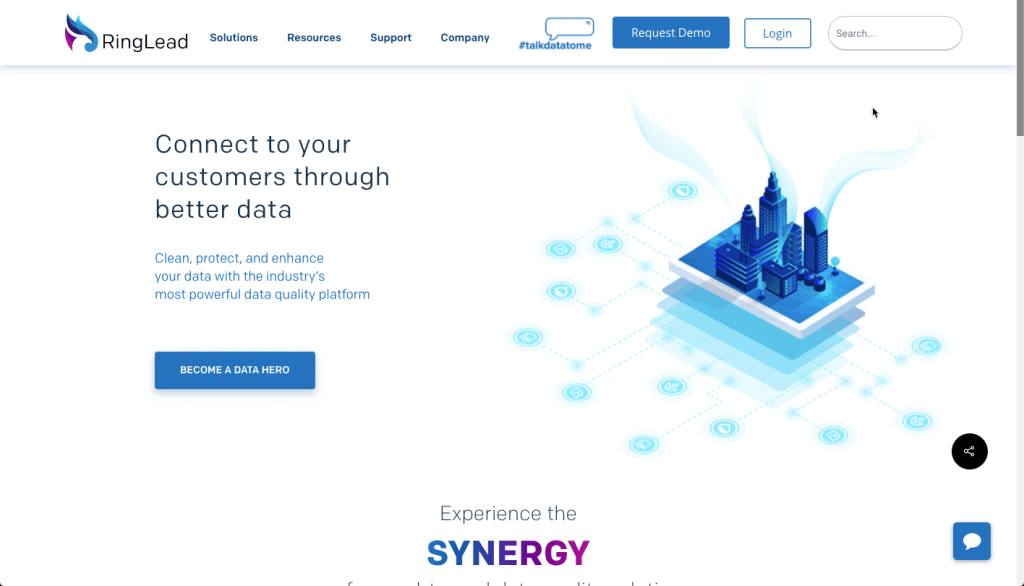 RingLead helps companies using CRM and Marketing Automation to automate their data quality and lead routing processes. Our Data Orchestration Platform helps the world's top organizations to analyze, normalize, verify, enrich, segment, link, discover, and route data via automation. Our platform positively impacts CRM & MAP administrators, end-users, and senior management by organizing the data driving daily activities and overall digital transformation initiatives.
Ecommerce Marketing Software
29. Vevox – The no.1 reviewed live polling and Q&A app

Used by thousands of enterprises and universities such as University of Oxford, BBC, Nestle, HSBC, Toyota and University of Warwick. Vevox's intuitive live polling and Q&A gives employees a chance to voice their feedback and ideas through any device such as a smartphone, laptop or tablet. Internal communicators and D&I professionals are using Vevox in their internal meetings to engage their employees through the features of anonymous Q&A, real-time polling, quizzing, live word clouds and surveys. As well as an app and online dashboard, Vevox offer a seamless PowerPoint polling add-in to allow presenters to create two-way conversations with their audiences. Customers say that Vevox has enhanced their internal and townhall meetings and made the online experience more interactive, engaging and fun! Learn more on their website at vevox.com.
Alight Analytics helps marketers build trust in the value of marketing with a suite of next-generation analytics solutions that connect marketing investments to business outcomes. Alight's Analytics-as-a-Service model brings together the people, process and technology necessary to holistically solve marketing's biggest challenges with analytics. Each solution is powered by ChannelMix, Alight's best-in-class marketing intelligence platform, and configured and supported by a team of experienced data experts.
AdScale weaves the power of AI technology into eCommerce advertising by automatically creating and optimizing ads on Google, Facebook, and Instagram, with an average ROAS of 1000% and success-based pricing.
We believe that understanding data is one of the most valuable assets for every business. Everything you need to know about your current position, strengths, weaknesses, and opportunities to succeed lies within your data. AdScale is set on a mission to help eCommerce stores grow their businesses using the power of AI technology, by analyzing, building, and optimizing digital advertising.
Driving targeted traffic to your store with automated Google and Facebook Ads.
Traffic Booster offers the perfect blend of expert PPC support and unique AI technology for automating your Google, Facebook, and Instagram campaigns. Simply put, StoreYa's team of marketing experts will create personalized ad campaigns for your store, while their unique algorithm automatically optimizes them to peak performance.
Since launching in 2012, StoreYa now assists over 400,000 retailers, entrepreneurs and innovators, just like you, streamline, manage and optimize their Google and Facebook ads. Ultimately, helping them get optimum ROAS for their PPC marketing strategies and scaling their eCommerce businesses to 8-figures.
One of the best ways to grow a Shopify store is through Google Shopping Ads. With the latest change, Google Shopping has become free to list. But, Creating an approved Google Shopping Feed & running profitable Google Ads is a multi-step process. Easy Google Shopping Feed App helps you easily create Google Shopping Feed & make your products available for advertising and free listing.
Listing products, however, is not enough to be successful in Google Shopping. To be successful in Google Shopping & Google Ads, Your feed should follow best practices. AdNabu's Easy Google Shopping Feed App has product scores out of 100 for each product, which helps you improve the product performance in Google Shopping. This product score is based on multiple attributes available in Google Merchant Center & also help you do better in SEO.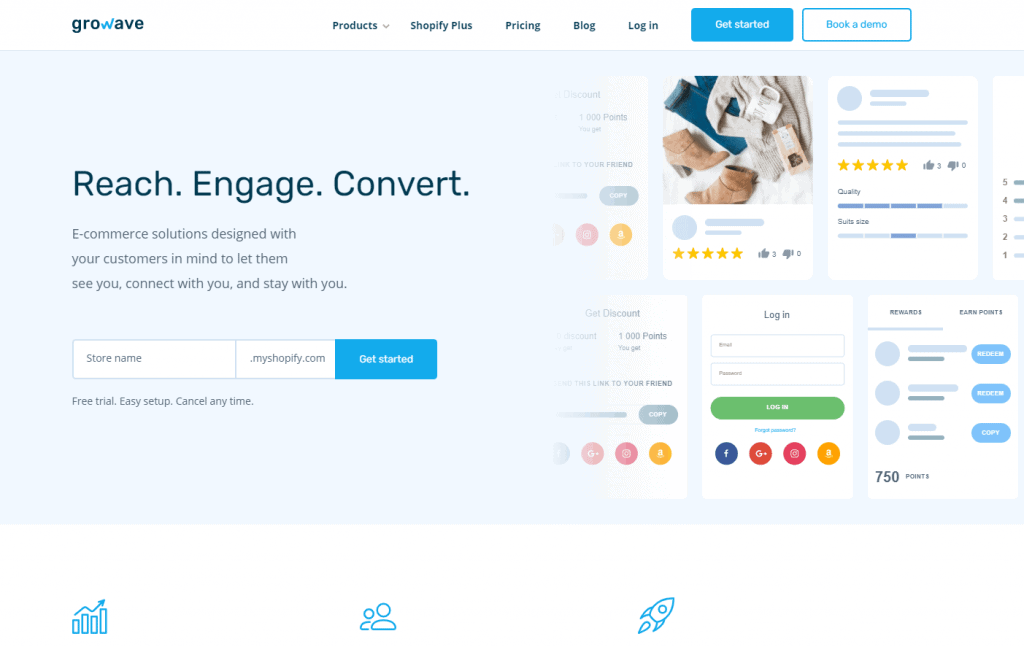 Turn your Instagram content and user generated content into shoppable galleries and allow your customers to shop directly from the posts. Choose Instagram photos using usernames and hashtags to display them on your Shopify site. Copy & Paste your Instagram feed into any Shopify page. No coding skills are required. Tag products on your photos and help your customers to easily find and buy liked items.
Scalify a Shopify app that helps eCommerce merchants retarget prospects and find highly profitable audiences by automating their Facebook & Instagram ads. What makes Scalify different is that it can create hundreds of custom and lookalike audiences under 5 minutes, allowing advertisers to test and scale their ads without missing out on a potential winning audience or spending hours creating each audience manually themselves.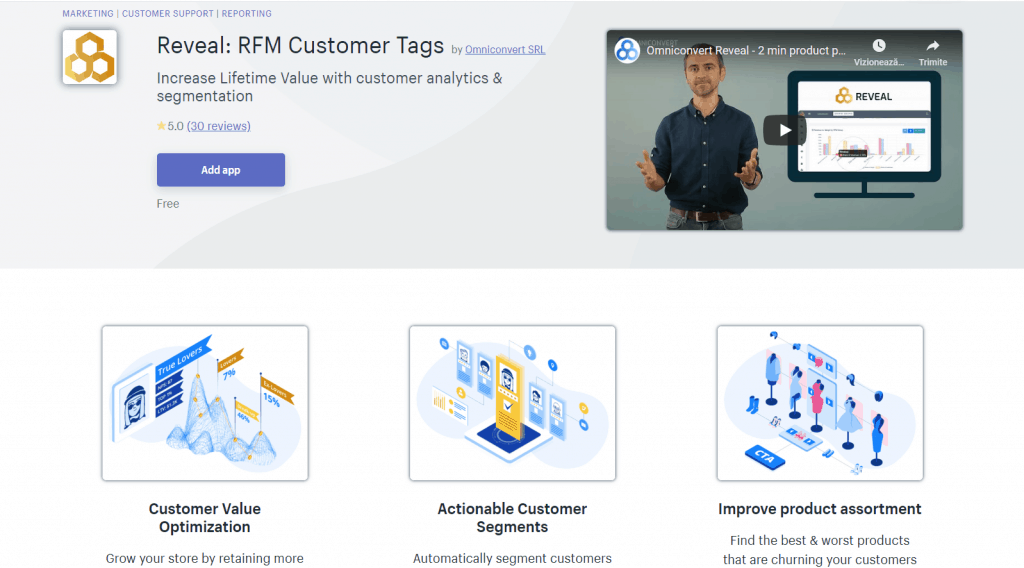 REVEAL is a Retail Analytics tool that offers automated advanced reporting for eCommerce. The software is analyzing customer, product and order data, based on two main metrics: Cost of acquisition (CAC) and RFM scores.
The dashboard provides insights into NPS scores, Retention Rate, Product Return Rate, Gross Margin per Customer Type, Cohorts and Customer Lifetime Value. This tool is suitable for eCommerce businesses that want to leverage customer data and increase their Customer Retention Rate and Customer Lifetime Value.
REVEAL is available for FREE on Shopify Store until the end of 2020.
Ecommerce Strategies From Experts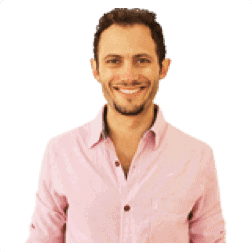 Install SumoMe.com. Make a google spreadsheet of the first 10 companies you want and reach out directly for sales. Create a free PDF of your 10 favorite tools for your industry and email that to potential customers / give it away to their email address. Sign up at okdork.com to learn more 🙂
2.
Rand Fishkin –
Moz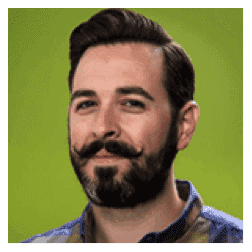 The best e-commerce sites do three things remarkably well on the SEO front:
Get technical SEO right – canonicalize duplicate pages or variations on products that aren't uniquely worthy of separate indexation in the engines, make sure pages are as few clicks away from each other as possible, and build a logical, useful information hierarchy to categorize your items.

Create pages that are uniquely useful and worthy of sharing – most e-commerce shops focus exclusively on the experience of those making a purchase, but if you also optimize for shareability from those who browse, you can dramatically increase your incoming traffic and links, which help (indirectly and directly) with rankings.

If your product(s) alone aren't worthy of attracting attention, find a way to make people care about your company/brand – even the most boring products can have amazing stories attached to them. Don't settle for anything less than a brand story that drives interest through being unique and eliciting emotional reactions. Press-worthiness is SEO-worthiness.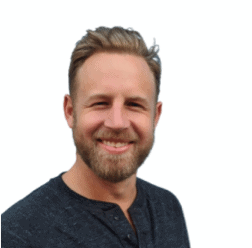 Marketing strategies shouldn't be based on hunches; many people make the mistake of assuming marketing is a purely qualitative "opinion" that anyone can do. Good marketing strategies are always a combination of data and psychology: the data justifies the investment in the strategy and the psychology is based on your customer profiles and personas.
Jeff Baker, CMO and Moz blog contributor.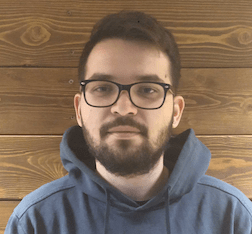 To thrive, businesses need the best marketing strategies to meet their KPIs. While marketers have numerous tactics in their marketing toolbox, developing an effective SEO and Link Building strategy is the first step to achieve scalability. As more and more consumers trust and use search engines to find products and services, improving your website rankings through SEO is the best practice to increase your credibility, boost your organic traffic, and meet your sales goals. – Nick Dimitriou, Head of Growth at Moosend.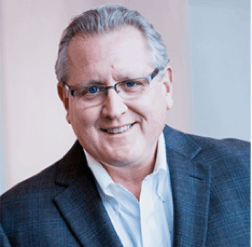 A marketing strategy is meant to identify un-met and underserved customer needs, compel an organization to meet those needs, and then envision a system of promotion, placement, and pricing to deliver the product in a profitable way.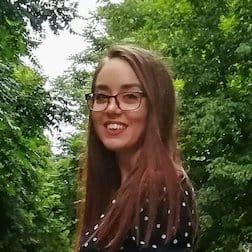 A good marketing strategy is understanding your audience and the user intent when they perform a search on Google. As an e-commerce business, you should know exactly what your audience wants to give them products and services that fulfill their needs to convert them and push them down the funnel.
It is a long process to rank on Google and find the user intent. It implies research (keyword research on Google, on your website search box, analytics), and then competitors spying to understand what do they offer. Then you'll continue with content optimization so that SERPs will love your website content, fix any issues and technical errors to make a fast and performant site. No one likes a slow loading website…
Then continue with promotion and what other digital marketing strategies you want.
There's a saying "Take care of home before impressing the streets" which can translate into analyzing your website before you share content and promote it.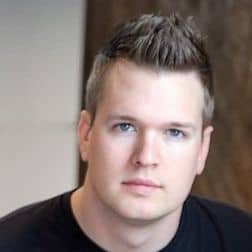 A good marketing strategy is a simple marketing strategy. Pick one or two tactics that work and become the best at those in your space.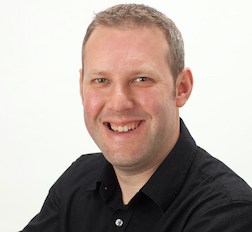 There isn't a marketing strategy that works for all companies. Know your target audience. Once you understand your audience you can then start to create a strategy – where does your audience appear, if online, what websites, platforms and search engines do they frequent and what are their interests? Once you understand this you are able to focus on where to market to them, the messaging involved, and whether that includes the need for any offers or discounts.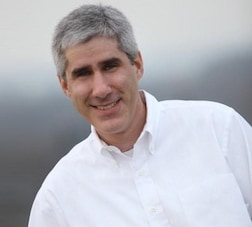 A good online marketing strategy always includes a good content marketing strategy. If you are looking for huge traffic volumes and nice conversions, you need to attract Google and your readers at the same time. Start with your content and persona analysis. Then, write content that provides valuable information to your readers and solves their issues. If outsourcing content creation is an option, Textbroker is the right fit.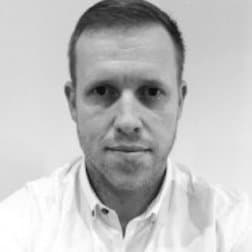 You can easily increase your bottom line by strategically placing customer reviews on your website. Customer reviews are proven to encourage people to buy. If you place real-life reviews on your website around your products or services, you can build trust with your users that can help lower the barrier to them buying from your website.
By providing social proof with customer reviews that are placed at key points throughout the purchase process, you can potentially double the chance of a website visitor converting into a customer. Integrate a service like TrustPilot into your checkout process to completely automate the process.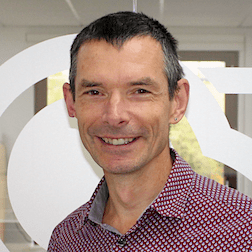 To compete and grow your business with online marketing it's essential to have a digital marketing strategy. Yet our research shows that many businesses of different sizes don't have an integrated strategy to reach and engage audiences in an effective way. Our strategy system 'RACE: Reach > Act > Convert > Engage' uses a data-driven approach to grow business based on analytics and dashboards. Ultimately, you will compete based on the quality of your content marketing strategy, blending creative and efficient content distribution.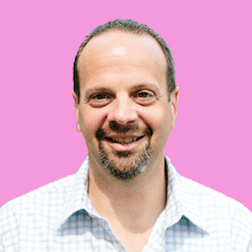 Today's marketing strategy looks nothing like the strategy we used to build even five years ago. Today it includes story development, buyer journey mapping, differentiation, customer advocacy initiatives, tactical orchestration, analytics to measure performance and technology to improve performance.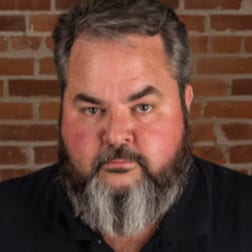 A good marketing strategy is one that aligns with the overall goals of the business. No one will be happy with your marketing if it doesn't have at least a trickle-down effect on revenue or sales. That doesn't mean you can't use content marketing, influencer marketing, advertising, public relations or even affiliate marketing for awareness or less concrete reasons. Those reasons may well lead to revenue or sales! But you have to develop a marketing strategy that ladders up to dollars or you won't be in charge of marketing very long." – Jason Falls, Digital Strategist and author of Winfluence: Reframing Influencer Marketing to Ignite Your Brand (Coming in 2021)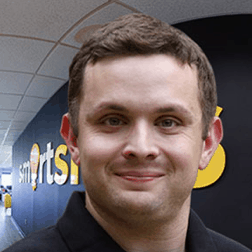 Invest in your reputation. Good online reviews on your business will boost returns on all of your marketing efforts, be it SEO, PPC, or otherwise. Develop effective processes to maximize your positive reviews and minimize the negative. If I had to develop a single central marketing strategy, that would be it.
15. Chris Makara – Bulk.ly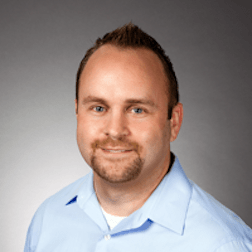 A good marketing strategy starts with having the right product fit (or service) that can solve a pain point of the target audience. The design, messaging and experience should all align in order to deliver on solving these pain points. And in order to know if the strategy is working (or not) it must be set up so that you can track your efforts. Without this data it's hard to know if it is making an impact on your bottom line.
16.

Joi Sigurdsson –

CrankWheel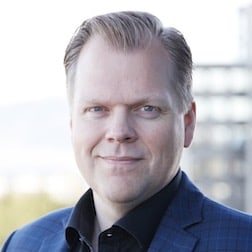 Automation has been the name of the game in marketing for many years, but I like to encourage people to think about where in your strategy a human element could help. Can you segment your website visitors automatically to understand which ones are the most valuable, and offer them to chat with a real human, or even offer them an immediate phone call and screen share to explain your offering? For those 1% of most valuable visitors, it can be really worth going above and beyond what most of your competitors are doing. Concretely, you can segment e.g. by seeing if they visit one of your higher-value pages (e.g. pricing or a page on a big-ticket offering) and stay there for a while, or you could have a form that they can fill out which usually ends up with an automated email or email sequence, but gets scored and might offer them to get a callback right now if the score is high enough.
17. Ajay Paghdal – Linkio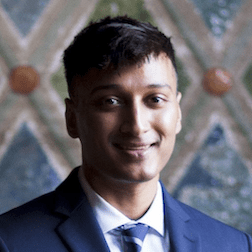 Follow along with this monthly e-commerce SEO case study where I show you the content and off-page strategy I'm using to rank my e-commerce site in a competitive industry where the top keyword has 100,000 searches per month. You'll learn from my successes and mistakes and see what's working this year.
18. Amadou T. Agne – Vogueboard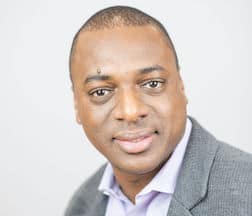 According to Hubspot research, salespeople spend as little as one third of their time on selling. The other two thirds is spent on writing emails (21%), entering data (17%), scheduling calls (12%), and internal meetings (12%).One of the greatest opportunities during the current, hopefully short-term, slowdown is to optimize business processes through cloud-based software automation, increase efficiency of sales teams by implementing a CRM system, and training people for new skills like marketing automation or B2B sales automation.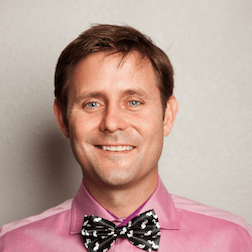 Marketing is simply putting the right message in front of the right people at the right moment. The key is, your message MUST deliver value to each individual. Gone are the days of broadcasting a 'special offer'. In today's fast-paced digital world, content and offers must truly be 'special' to each person. Take the time to research and understand your audience. Then, apply analytics to confirm accurate (or at least the most realistic) marketing decisions. It is not about just marketing, it is about marketing smart.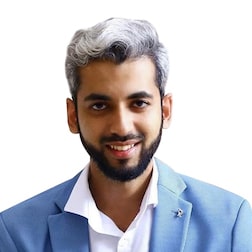 A good marketing strategy starts first by knowing your customer persona and then defining and tracking weekly KPI's that are important to your business. Once this is sorted, the phase of experimentation starts by doing activities related to social media marketing, email marketing, content marketing, paid advertisements, and other growth hacks to meet your business KPI goals.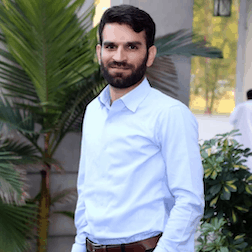 In my opinion, a good marketing strategy is one that does not focus solely on a singular aspect of marketing. In fact, the strategy that has proven to be the most optimal is all encapsulating– one that is a combination of paid, organic, email and social marketing. Essentially, the goal is to utilize all available platforms in order to deliver the most appealing, informative and personalized content to the consumers. In this tactic, effective segmentation is important as it enables you to deliver the most engaging content to your target customers, which then entails maximum conversions while maintaining your CPA.
22. Charlie Worrall – Imaginaire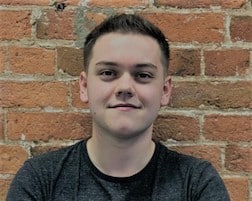 For an eCommerce website, you have to nail the technical SEO. Without a good level of technical SEO on the site, you're likely to see less coverage and struggle to sell certain products if they're being affected. That means, staying on top of duplicate content, make sure your internal linking is spot on referring back to your Google Search Console to track performance and fins quick wins. After this, I'd recommend looking at your photography on site too! If you have gorgeous product images, you're much more likely to start converting users. A good image is one of the best ways to convince people to purchase their products. These images can then be used for off-site marketing too, whether it's for a press release or a just an article.
23. Dhiraj Das – BeginDot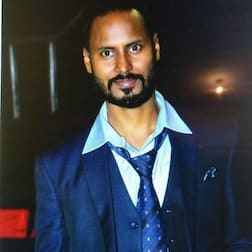 A good marketing strategy starts with understanding your niche and your audience. You should do everything that it takes to establish yourself as an expert in your niche so that your audience values your opinion. This can be achieved by offering great value through your content in a persistent manner while being honest about your recommendations.
24.

Mansour Salame –

FrontSpin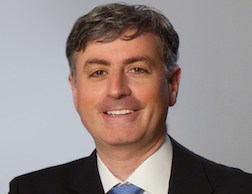 Marketing and sales go hand-in-hand. The two teams must work seamlessly in developing go-to-market strategies and mutually agree upon goals. By involving both teams in the process of developing strategies, tactics, and campaigns, each team member is aware of what pieces they own with clearly defined metrics. The most successful sales and marketing teams are harmonious in their communication and clearly defined objectives.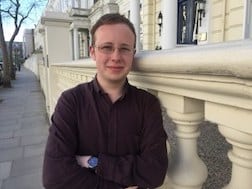 To get yourself noticed, you need to find an under-served niche, something people are interested in that isn't being catered to. Build up your online presence, try to collaborate with people occupying similar spaces, and make sure you're providing fresh, regular content – whether that be in the form of video, article or whatever. Put in the time and hopefully you'll see your channel grow.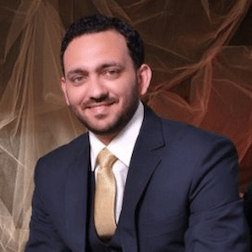 Marketing starts when your customers speak the best of your product. To reach a large audience make sure you have the right product fit with problem-solving solutions. Get involved with your first few customers and listen to their feedback. Put your happy clients' reviews out on social media and use them as an evergreen source of marketing content. Writing 2 to 3 helpful blogs in a month and creating videos that answer questions of your audience can get you more organic visitors than anything else.
27. Eric Vardon – Morphio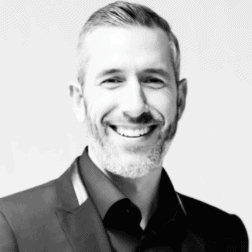 A good marketing strategy is one that aligns with a financial outcome from the start. Setting clear goals, objectives and KPI's is the only way to ensure success. From here, you can align on tactics, messaging, audience and what your marketing funnel needs to look like. Employing goal centric software like Morphio can help protect your budgets and goals and improve campaign performance.
28. Vitaliy Verbenko – OroCommrece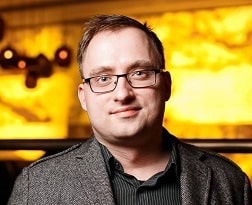 I believe that a good marketing strategy always has an element of relationship-building in it. Learn how to connect emotionally and effectively project your personality when interacting with customers. Partner with brands that have mutual benefits. In our experience, a partnership with a non-competing brand is a great way to boost your exposure with little or no risk. Lastly, understand that not everyone who comes across you will be interested in what you are selling. However, if your content is valuable, insightful, and has some element of thought leadership, people will engage with you, and your following will grow.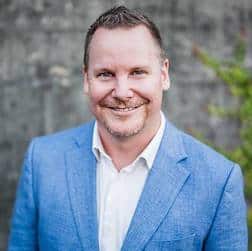 Email marketing, as one of the highest revenue generators, will continue to be a part of every marketing strategy in major organizations. It will get further improvised with the right integration of CRM and marketing automation to generate good sales and revenue numbers.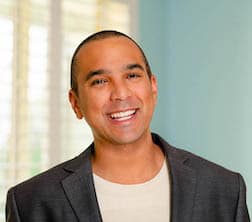 A good marketing strategy starts with a single, clear defined goal. All the tactics should be aimed at reaching that goal. The tactics can also have short term goals that support the overarching goal.
32.

Yahav Hartman –

Madgicx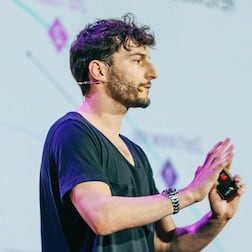 A good marketing strategy is one that creates a significant ad-buying arbitrage, meaning the product is unique enough, the offer is good, and the marketing channels are all set properly to deliver positive ROI. Such a strategy closes the gap between the market demand for your product and your ability to deliver it to customers.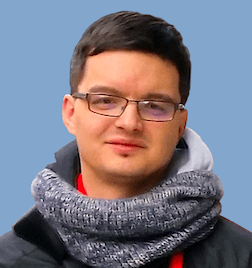 Content marketing & SEO should be part of the advertising strategy for every business. When I write about SEO I refer mainly to SEO in the blog and sponsored articles as well as technical aspects of the website.
Considering business marketing, we can limit it to a few points that matter:
Advertising content

– why the user should use the software and how it differs from others,

Ways of communication

– the more varied, the better. We are talking about video, infographics, e-books, presentations, etc.

Distribution channels

– tools and advertising channels that allow you to pass the content to end-users.
Based on my experience, I know that each of these elements is independent and must be precise and well-prepared.
You can build your content marketing on a few basic principles. Create content that:
Is simply useful – for example,

The list of top pages where you can

…

Compares your product with those of your competitors – for example,

An alternative to

…

Responds to the most frequently asked questions from users– for example:

How to integrate with…
Presents you as an expert in your field – for example, use titles starting from: How to … Why … How to …